If the idea of becoming a UI designer can't leave your head, but you don't know how & where to start, we have you covered. Keep reading this detailed article to discover how to start learning UI design, what skills you'll need, how to practice it, and many more!
Let's start with definitions. UI (user interface) design means to create interfaces for software or digital devices, primarily focusing on style and aesthetics. 
But it shouldn't be confused with graphic design! UI designers' essential task is to design smooth and straightforward user interfaces to help them achieve a specific objective.
User interfaces come in three formats:
Graphical UIs (websites, desktop, mobile, or web apps)

Voice-controlled UIs (Siri, Alexa)

Gesture-controlled UIs (VR)
The difference between UI and UX design
An initial way to start learning UI is to learn how to differentiate UI from UX design. UI and UX (user experience) are terms people often use interchangeably. Some companies still hire one person to wear both hats. But, even though these disciplines are similar, they are not the same. 
As we already mentioned, UI designers create interfaces for digital products with a primary focus on achieving clean and intuitive looks. 
UI designers' daily tasks include strategic planning and positioning all elements in the right spot to ensure high quality visually and interactively. Such a strategy allows users to reach their goals when using your digital products. Achieving such objectives without issues benefits users and businesses that own this digital product. 
If you want to start learning UI, you must understand what UX designers do, too. UX designers are all about the user experience. They analyze how the experience of using your digital product makes the user feel and how easy they can reach their goals. 
UX designers aim to empathize with users on problems and provide solutions. They do this by performing user research, conducting user tests, and sometimes writing or coordinating UX copy. While UI designers create the "face" of a digital product, UX designers take care of its usability. 
As we already said – UI and UX are different, and the skills you need to master these professions are usually diverse. Before you start learning UI, it's necessary to evaluate your skill set.
If you want to become a UI designer, you have to have the following hard skills: typography, color theory, animation & interactivity, knowledge about responsiveness, and finally, wireframing and prototyping. 
Some graphic design, project management, OR customer service skills are also a bonus.
UX designers' hard skills include knowing how to conduct user research and different analysis techniques, knowledge about information architecture, usability testing, and, similar to UI designers, wireframing and prototyping.
In conclusion – if you're a visual person with a specific knowledge of graphic design, color theories, icon designs, branding, and interactivity, and know how to work with developers, then becoming a UI Designer is the right path for you.
As a UI designer, you'll have to ensure a stable and recognizable hierarchy to help your users navigate your digital product effortlessly.
Consistency will ensure simplicity and remove potential blockers.
Learn about UI Design Principles
To start learning UI, you must familiarize yourself with UI design principles. Some essential UI principles are consistency, familiarity, user control, hierarchy, and accessibility.
A good UI design is consistent. Using too many styles, colors, and layouts will move the users away from their initial goal. Inconsistency will also cause confusion and negative emotions within users, which will eventually lead to dissatisfaction, adverse user experience, and possibly even an estranged customer.
A consistent UI design contains similar patterns, matching terminology, uniform screens and menus, and compatible commands throughout the whole user interface. Consistency will ensure simplicity and remove potential blockers.
To start learning UI, you must recognize familiarity as one of the critical factors of a good UI design. Familiarity means your interface will be similar to the interfaces your users already know how to use.
Jakob's Law, a UX law that you could apply to UI, also states that users want your website to function the same way as the websites they already know. Familiarity benefits UI designers, too; it helps you build a reliable interface instead of reinventing the wheel and starting from scratch. Familiar user interfaces also reduce the learning curve (the time needed for users to learn using your digital product.)
Another way to start learning UI is to examine how to enable users to be in control of the interface. Jakob Nielsen explains that users often mistakenly select functions, so they must have a sharply communicated "emergency exit" to help them return to their original state.
Such an explanation is similar to two Golden UI Rules coined by Ben Shneiderman – "Supporting internal locus of control" and "Enable Easy Reversal of Actions." These rules express the importance of giving users a sense of control – sometimes in the form of an easy exit or as a form of free will.
Hierarchy is another critical factor you must get familiar with when you want to start learning UI. 
Flawless user interface designs consist of a solid visual hierarchy with visual elements highlighting each component's importance and function. Moreover, such arrangements should also guide users toward accomplishing their specific objections. 
As a UI designer, you'll have to ensure a stable and recognizable hierarchy to help your users navigate your digital product effortlessly. One of the essential components of creating a visual hierarchy is color. Size and fonts also play invaluable roles in determining hierarchy.
Familiarizing yourself with accessibility is a significant step when you want to start learning UI. Designing for accessibility means creating a digital product that includes all users' needs without excluding those with motor, visual, auditory, speech, or cognitive disabilities or users of distinct cultures and from different countries.
If you want to design digital products with accessibility in mind, you have to: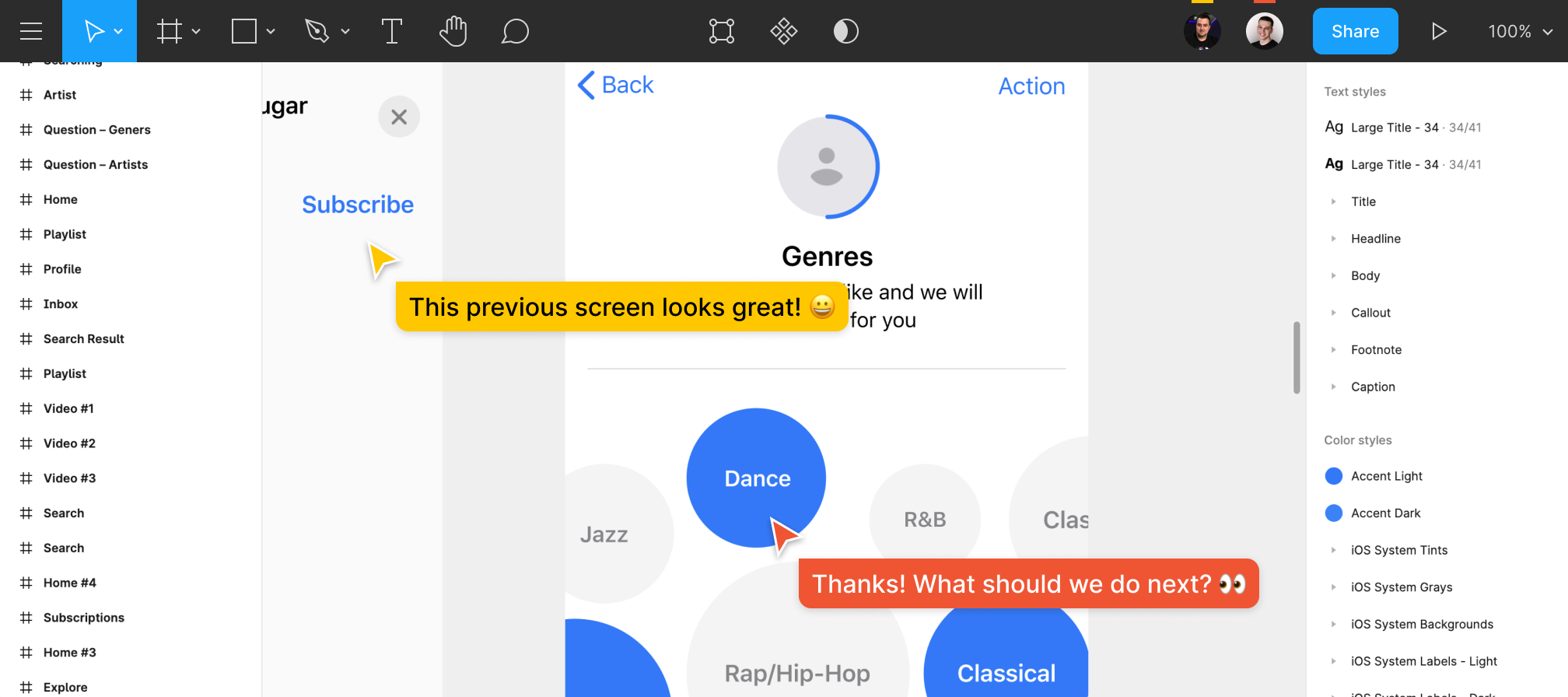 Figma allows for collaboration with fellow designers. You can write real-time comments and jump on a voice call to discuss design decisions.
If you want to start learning UI properly, you must master colors. 
Every UI professional must know how to confidently and correctly apply colors, learn the psychology behind them, and utilize them to ensure maximum user interaction. The Institute Of Color research shows us that users subconsciously judge products, people, or the environment within the first 90 seconds of viewing. 62% to 90% of such judgment is based on color alone!
The first step is to learn thoroughly about color schemes. Color schemes consist of primary and secondary colors, accent, neutral, and semantic colors. Once you learn everything about color schemes, you'll know how to use color to emphasize a brand's personality, evoke specific emotions in users, and achieve the perfect aesthetics for your digital product.
But, mastering color in UI design can be challenging. Learning about hues, saturations, luminosities, and color psychology can become overwhelming. If you need a course that will boost confidence, resolve any confusion, and teach you how to hit the nail on the head using colors every time, join our Ultimate UI Color Masterclass.
You won't get trapped in a dull course filled with theory only – you'll have to roll up your sleeves too! This captivating video course covers everything – from color basics to creating suitable color schemes, tints, and shades for outstanding user interfaces.
To start learning UI means to conquer typography.
Typography in UI design is vital – it can make or break your overall design. You'll need to learn how to choose a suitable typeface that will complement other UI design elements.
Mastering typography means much more than making the written content in your digital product legible.
If you want to practice UI design and its techniques properly, you must learn the following:
how to select the right font,

how to determine adequate sizes,

how to pair typefaces,

hierarchy and scale,

white spaces, and more.
Typography is crucial for creating high-quality design with pleasant aesthetics, but it also increases engagement rates, complements the copy, and brings the overall user experience to a higher level. 
Moreover, focusing on typography in UI design builds the brand's image. When the overall typography complements the brand identity, users get the impression that this business has its affairs in order.
But, being one of the paramount factors, typography can sometimes seem puzzling and hard to conquer. If you want to get some help along the way, check out our Ultimate UI Typography Masterclass. 
This practical and engaging video course will help you fortify your existing knowledge and fix the possible cracks: from typography basics to choosing suitable typefaces and how to format the text for delightful user interfaces; you'll learn it all!
To start learning UI, you must become familiar with the tools UI designers use daily. 
Let's start with Figma. Figma is the most popular browser-based interface design tool that enables you to design, prototype, and create a seamless and collaborative workflow. Figma also offers multiple handy plugins that will do the heavy lifting. 
Another popular UI (and UX) tool is Sketch. UX/UI designers use it to create high-fidelity prototypes and interfaces offering instant previews on mobile devices. Sketch has multiple great features, such as the Symbols feature, which allows designers to create UI elements to reuse.
Next up is Adobe XD.  Adobe XD is a powerful UX/UI design tool for prototyping and designing. Most UI designers claim that this tool has everything you need at its core. This tool contains optimized vector tools, responsive resizing of assets across platforms, and layout grids for precise design. 
Other great tools you can use in your UI projects are Adobe Photoshop, Adobe Illustrator, and InVision. These apps are not specifically built for UI design, but if you're already familiar with them, you can use them to implement your design processes.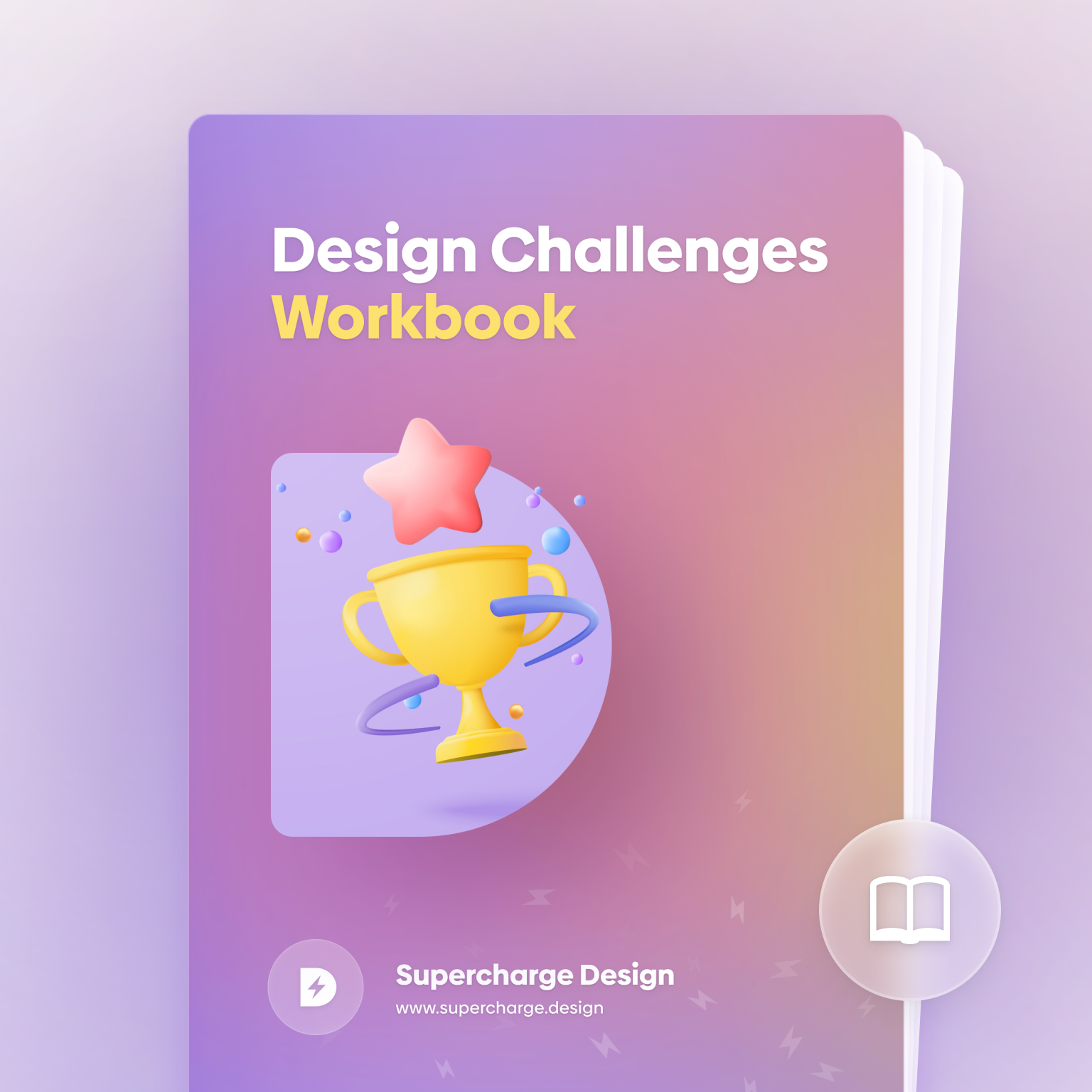 Build a hire-worthy PORTFOLIO
Design Challenges Workbook
Learn by doing – real briefs, immersive projects, and expert tips! ⚡️ Solve genuine problems that you can use to fill your portfolio.
How to build a UI portfolio
After you start learning UI, you'll have to begin working on your UI portfolio. UI portfolio is one of the most important things you'll have to work on before landing your desired position as a UI designer.
But, if you have no official experience and real projects you've worked on, building such a portfolio can start causing you headaches. But, as always, we have some helpful suggestions to lead you through this process.
Reproduce existing designs
Creating a UI design from scratch is challenging. One of the tricks for practicing is copying an existing design and adding a little twist.
If you want to start learning UI by designing a mobile app, get inspired by an existing popular, highly-functioning app. That way, you'll get a deeper look into the app's structure and begin thinking about why some things in this app are the way they are. You'll learn how to think like a UI designer while creating an actual design that works! 
Make sure to distinguish copying and inspiration from forgery.

Never create an app and claim the design is your unique invention.

Learn how to find that fine line between copying and getting inspired.
Take part in UI design competitions
If you want to start learning UI but don't know how to decide on your first project, join a design competition. There are numerous UI competitions for designing mobile phone themes, app skins, games, screens, and much more today. So, select one of the projects that seem most appealing to you and start working on it!
UXDesignContest has excellent options for both UX and UI design competitions, and if you win, you can get money to donate to your preferred charity. You can also explore Crowwwn and its challenges.
Finally, if none of these seem fit, try to challenge yourself! Try to create a UI design for a digital product from your imagination. You'll hone your creativity, innovation, and UI skills.
Use Supercharge Design Challenges Workbook
This workbook contains diverse project briefs with UI, UX, and research problems to solve, exclusive project briefs, tips on how to solve specific design problems, explanations and arguments for particular design rationale, and complementary videos for each challenge. With this workbook, you'll solve, review, learn, compare, think, and grow.
Finally, you'll learn how to future-proof your projects and think like a senior within different project phases, even though you might be at the beginning of your UI career.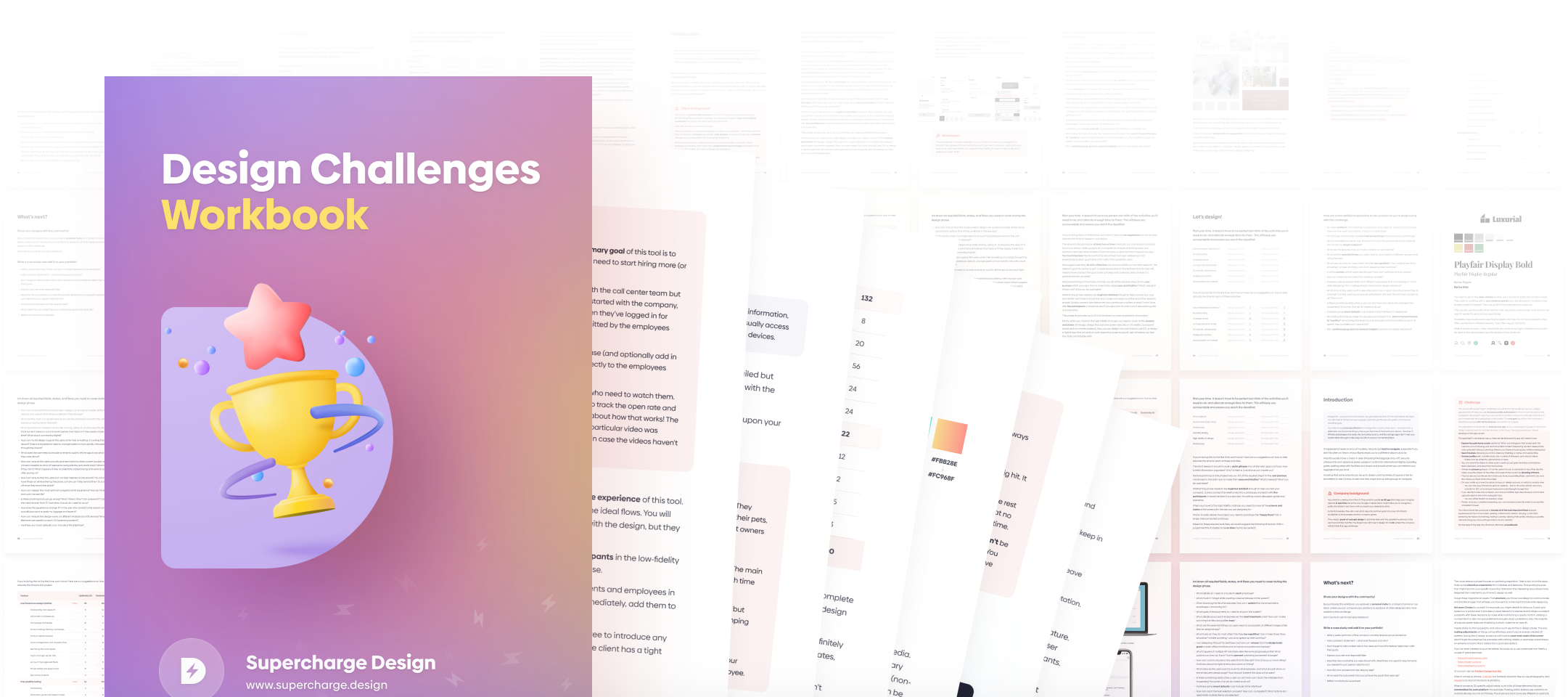 Use Design Challenges Workbook to solve real-life problems you can use to fill your design portfolio or brush up on your UX/UI and product design problem-solving skills!
Congratulations – now you know how and where to start learning UI design! However, we still have another helpful suggestion up our sleeve.
Read design books to cover all the basics of UI design, expand your horizons, and learn how to think like a proper UI designer. 
Some of the best designs you can get your hands on include titles such as Don't make me think by Steve Krug, UI Is Communication by Everett N McKay, and Designing With The Mind In Mind by Jeff Johnson.
Such books will teach you everything you need about usability and psychology and give you practical tools to implement immediately.
We hope we inspired you to start learning UI, and in case you need more informational content from the world of product design, explore our blog and follow us on Instagram.
You might like the following