How To Apply For A UX/UI Job
So you finally decided to become a UX/UI designer?
Well, you're at the right place because, in this article, we will teach you how to apply for UX/UI jobs with little to zero experience and start working in the field of your dreams!
As you might already know, the primary function of a UX designer is to create enjoyable, valuable, and, most importantly, productive user experiences.
To achieve this, you'll need to hone different skills. You'll have to sharpen your eye for the visual design and pay closer attention to the data and its structure. In UX design, there is always much more than meets the eye, so read on to find out how to apply for a UX job.
Start developing your UX/UI research skills early
UX research is the foundation of a cohesive UX design. By learning how to conduct proper UX research in your early beginning, you will distinguish users' needs, behavior, and motivations. All of these are vital for your design outcome.
There are two types of UX research: qualitative and quantitative.
Qualitative research consists of focus groups, user interviews, and diary studies.
Quantitative research means gathering data about users' problems and the number of users affected by them.
To apply and to get a UX/UI job, you'll have to know how to conduct and combine both of these types of researches to develop a high-quality product strategy.
Fill in the possible gaps
Whether you're a beginner or a transitioner, you may have some gaps in your knowledge or experience you'll want to fill in before applying for a UX/UI job.
Don't be afraid to take a few steps back and re-trace some of your previous projects. Practice sketching, or get familiar with the Design Thinking processes. Maybe you'll need to boost your creativity levels.
Whatever field you feel you might need extra improvement, try to work on it before applying for the desired position. It might not be vital for you to get the job, but it will help you gain more confidence and get rid of possible imposter syndrome.
One way to get yourself closer to scoring a UX/UI job is diving deep into wireframing.
Wireframes include simplified versions of buttons and graphics to represent the structure of a product in the earlier stages of the design process. Wireframing is beyond helpful because it helps you outline the functionalities, determine possible pain points, and resolve them in the earlier stages of the design process.
Every professional UX designer knows that it's much easier to change wireframes than high-fidelity mockups with advanced design items.
Thus, having rock-solid wireframing skills will make you a much fitter candidate for the desired UX/UI position.
Familiarize yourself with prototyping
In other words, prototypes are almost like the real thing; they feel real to the usability test participants.
Prototyping skills allow UX designers to test the product's usability and gather valuable feedback from the users. It will enable you (and your team) to test the product and examine how it will function in the "real world." It saves time and resources, which is crucial when building a product. It also reduces the workload and helps determine valuable and unneeded design elements. Good prototyping skills will lead you towards success in UX/UI jobs.
Find a growing and motivating community
They say you are who you hang out with, so make sure to surround yourself with the right people from the very start!
Being a part of a UX/UI community often comes with significant perks.
Not only you'll broaden your product design horizons, but you'll also learn more about yourself as a future UX/UI designer. You'll be able to determine your strengths and weaknesses. 
Moreover, the UX/UI community is widely known for helping each other grow instead of competing and bringing others down.
Your questions will receive technical and detailed answers, and you might even get opportunities for a UX/UI job much quicker. Becoming a part of a UX/UI community also means asking for constructive feedback to help you grow and improve your work. 
These are some pretty good reasons to become a part of a UX/UI community, right? 😉
Build a high-quality portfolio
Don't be intimidated by creating a portfolio if you don't have any real UX projects. You can always add your school or even self-assigned projects.
The reality of the projects in your portfolio isn't the most crucial part; recruiters will pay much more attention to the problem-solving and decision-making you present there. 
When interviewing for a design position, recruiters want to see if you can explain your design decisions and their actual value.
Your portfolio should look smooth and be pleasant to use because it will serve as a glimpse into your future UX/UI designs. Explain your role in the project, learn how to present your rationale, share visuals, and highlight the achieved impact.
If you want to take a step further than becoming a part of a UX/UI community, consider getting a UX/UI mentor.
UX/UI mentors are top-notch professionals within your niche, with the perfect mixture of theoretical knowledge and real-life experience.
A good mentor could help you hone your skills, evaluate your work, help you build a great portfolio, give thoughts about UX/UI job ads you apply for, and many more. Their knowledge and proficiency in UX will help you make the best out of the beginning of your UX path.
For example, with Supercharge Design (that's us 😜), you can apply for a design mentorship with an industry expert that has also an extensive experience in teaching and mentoring.
With such services, you'll learn how to put your best foot forward and grow confident as a UX/UI designer, all while receiving actionable feedback that is easy to implement.
Prepare to nail the interviews
The closer you get to applying for a UX/UI job, this step gets more critical! To decrease stress levels and increase the possibilities of you getting hired as a UX/UI designer, you'll have to prepare for a design position interview. 
After polishing up your design portfolio, you'll have to learn as much as possible about the desired company. Do your homework and explore their projects before the interview. Prepare questions for the recruiter that will give you an insight into whether you'll fit their culture and if they will fit yours. 
Search online for possible interview questions and practice your answers.
Work on self-presentation, be punctual, and take your time during the interview.
We hope you'll like this guide on how to apply for a UX/UI job!
Visit our Learn section to get a broader insight into how you can leverage our knowledge and experience for landing a UX position you desire.
We wish you the best of luck with your UX/UI career path!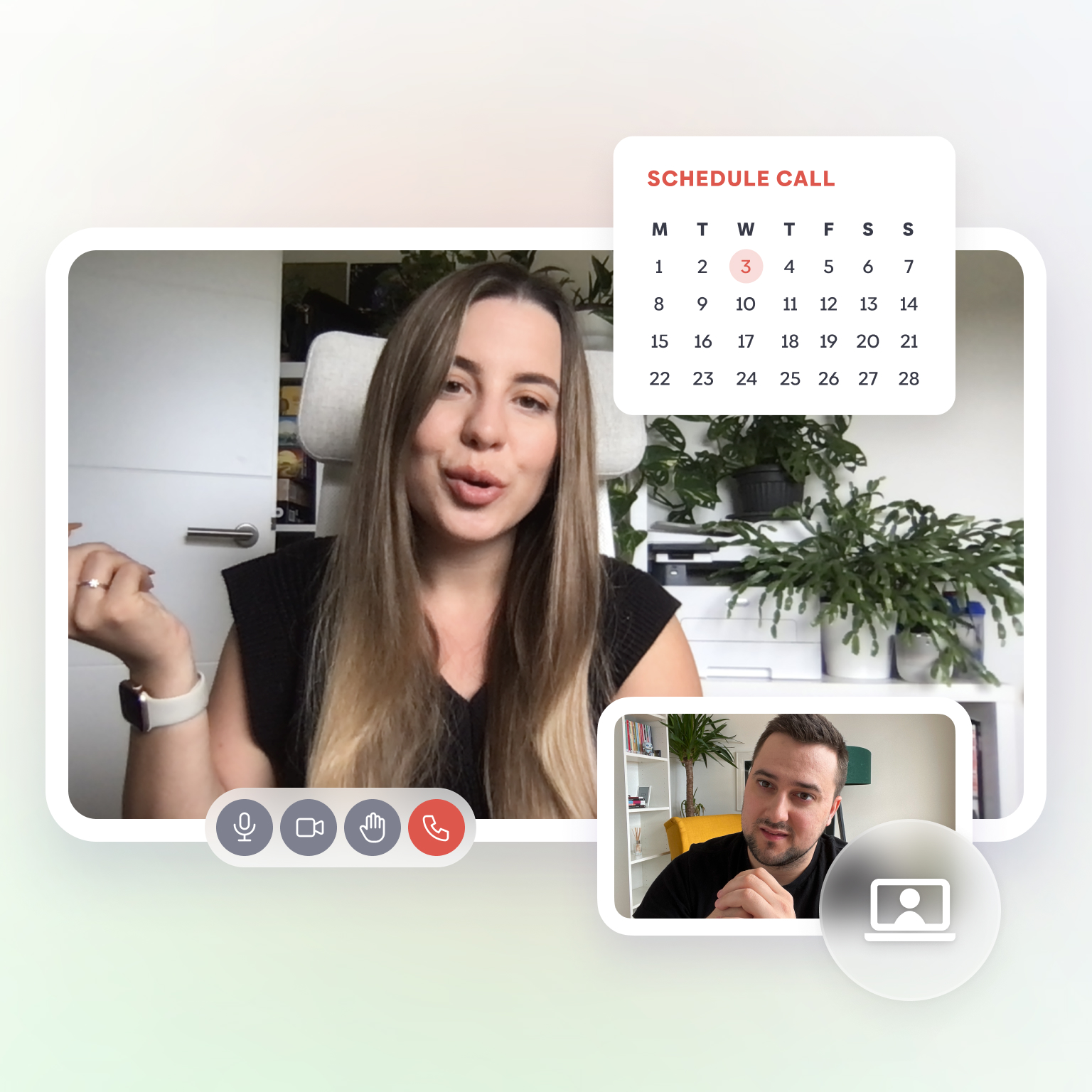 SUpercharge your design career
Design Mentoring Call
Get support in preparing for job interviews, landing your dream job, polishing your portfolio, or simply in being a stellar UX, UI, and product designer.
You might like the following