Product Design Discovery: A Guide
Product design discovery is a crucial process for designing and building valuable solutions, products, and features. The discovery phase should come before the design and delivery phase, focusing mainly on the product's characteristics. It's also the best time to define possible pain points and determine how users will use the product.
In this article, we'll go through the definition of the product design discovery phase, its benefits, structure, and forms, so keep reading.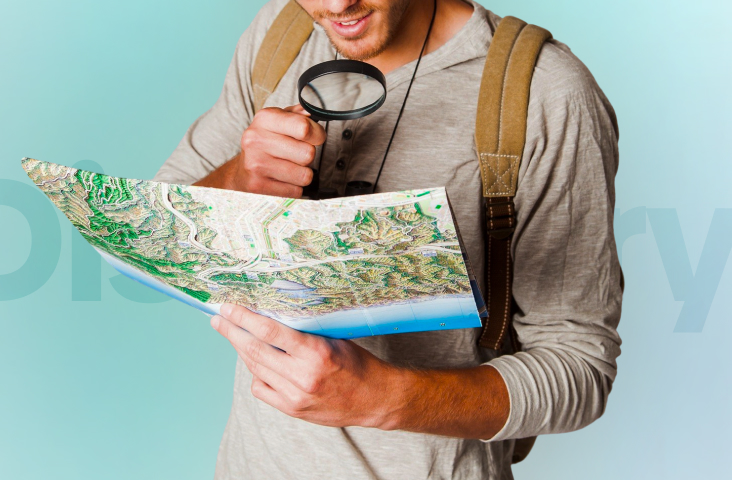 What is the product design discovery phase?
Product discovery is a phase in product design focused on getting as much detailed information as possible about the product you'll design and build. This process helps remove all potential uncertainties and challenges that obstruct the creation of a valuable, usable product.
We can divide product design discovery into two parts: learning everything possible about your future customers and ensuring your product has everything they need. Product discovery is significant because it helps product design teams plan timelines, prioritize tasks, cut unnecessary expenses, and avoid scope creep. 
As a fellow product designer, you're probably aware of the Double Diamond Model. The discovery phase covers the first diamond – the Discover and Define stage. In the Discover stage, the product design team explores the problem space.
After that, in the Define stage, the team settles on an evidence-based problem statement and creates a vision for the future. All that sets them on the right pathway to building an excellent, valuable digital product.
The problem space and the solution space
There are two important phases of the product design discovery phase:
Where product design teams work to gain more profound knowledge about their users and their problems.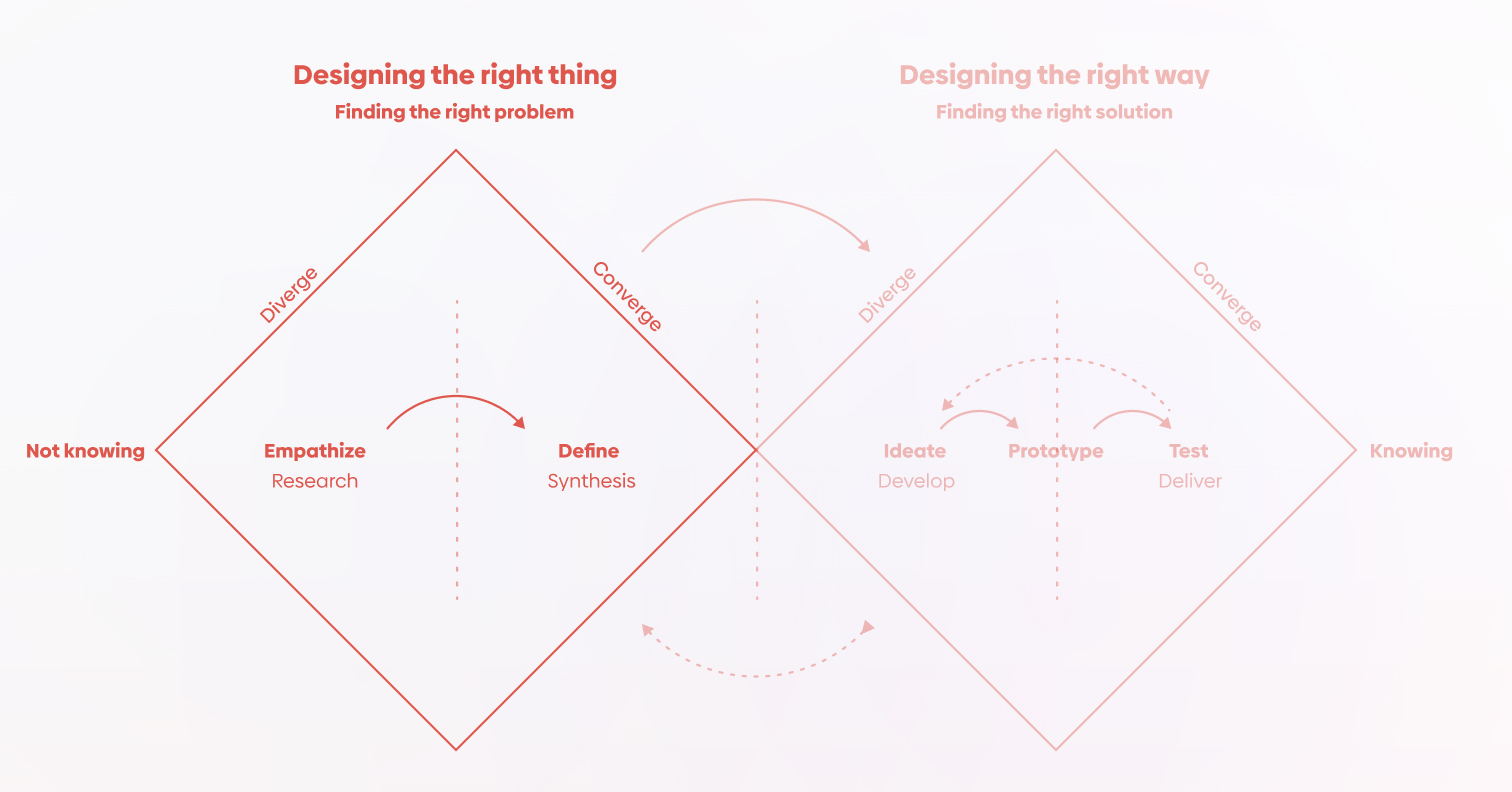 Where product design teams create, test, and adjust the solutions of the product to afore-discovered problems.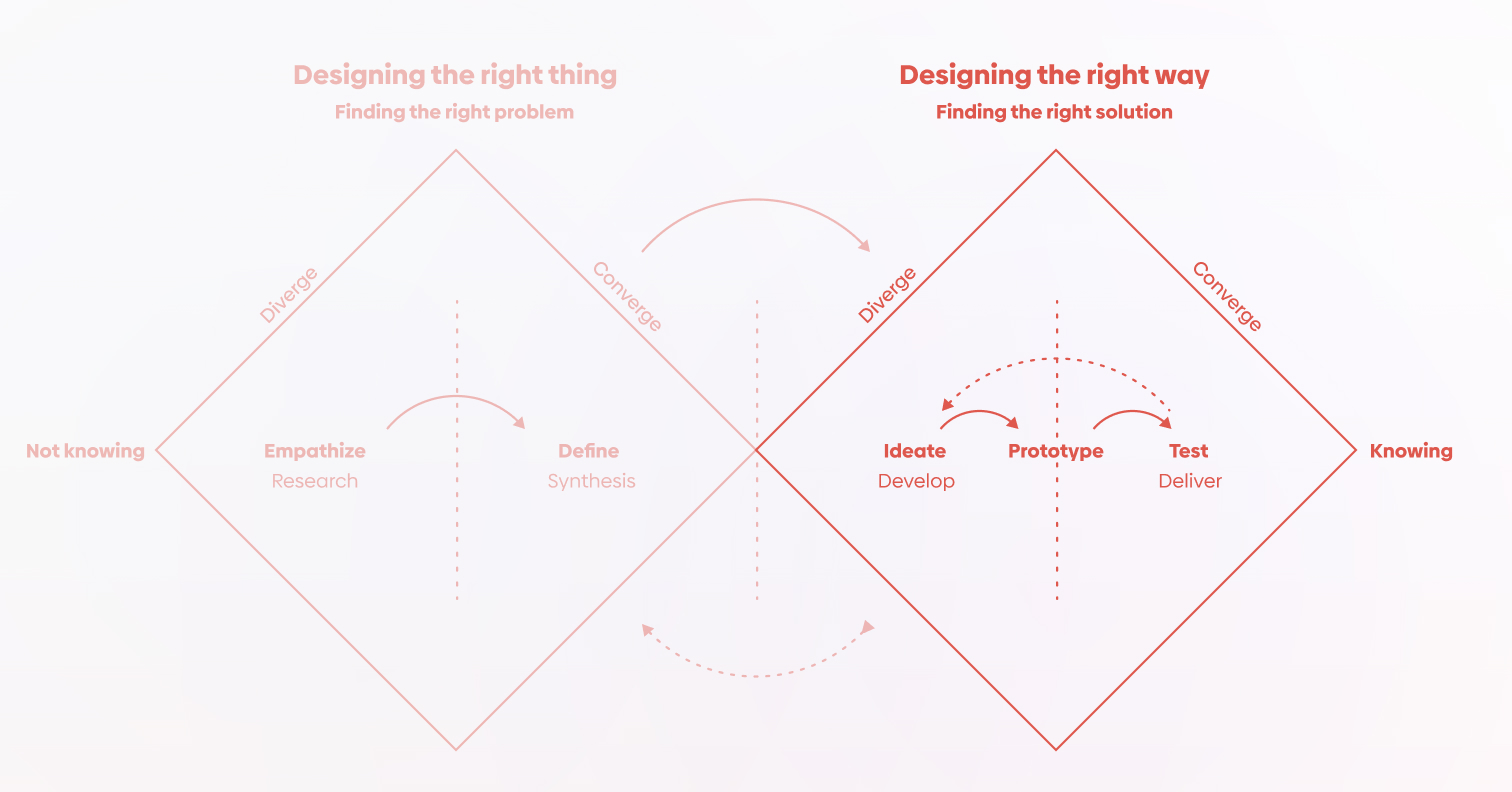 Jumping directly to the solution space before dedicating time and effort to understand customers and their issues is one of the biggest mistakes product design teams and stakeholders can make. 
In the product design discovery phase, the problem space and the solution space work to inform each other. Before you commit to designing a proper solution, you must learn which problems you are trying to resolve. On the other hand, while creating the solution, you'll keep revisiting the issues and re-learning what the users want. 
Once you master the coexistence of the problem and solution space, you'll know how to create a product and its strategy based on insights, not assumptions.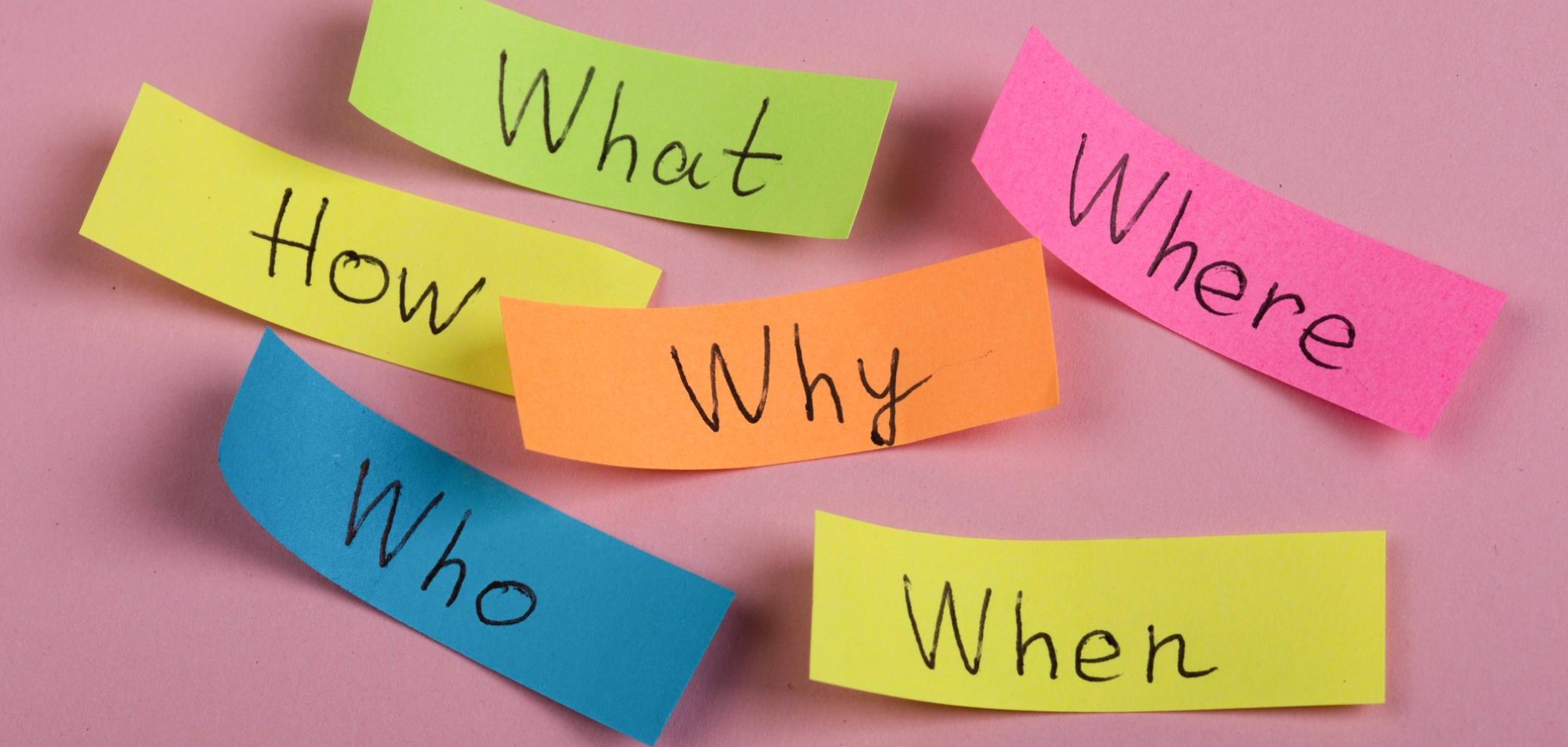 Product design discovery processes
Product design discovery contains many methods and processes you and your product team must go through to create a valuable digital product. Let's go over some of them.
You must know everything about your target market to design a fantastic digital product. You need to familiarize yourself with your users' wants, purchase patterns (what and where they buy, how much they are willing to pay for a particular service or a digital product), habits, interests, and obstacles they stumble upon. 
You must learn such information to avoid becoming overwhelmed and losing precious resources such as time and money.
Stakeholder interviews in product design discovery are one-on-one conversations with the project's stakeholders – managers, directors, team leaders, investors, developers, or anyone with a joint interest in this project. Stakeholder interviews provide product design teams with valuable input about ideas and objectives.
Conducting a thorough data analysis during the product design discovery phase, you can unlock valuable information, such as:
Who is using the product? How often do they use it? When do they use it? In which ways is our product solving their problems?
Finding complete answers to these questions will help you get a clear vision of your current status and the following steps you and your team need to take to build an invaluable product.
User interviews are also one-on-one conversations where a researcher asks a participant from the target audience questions about a topic of interest while recording or writing down the answers (such as using a product, their behaviors or habits, and the challenges they encounter) to learn more about it.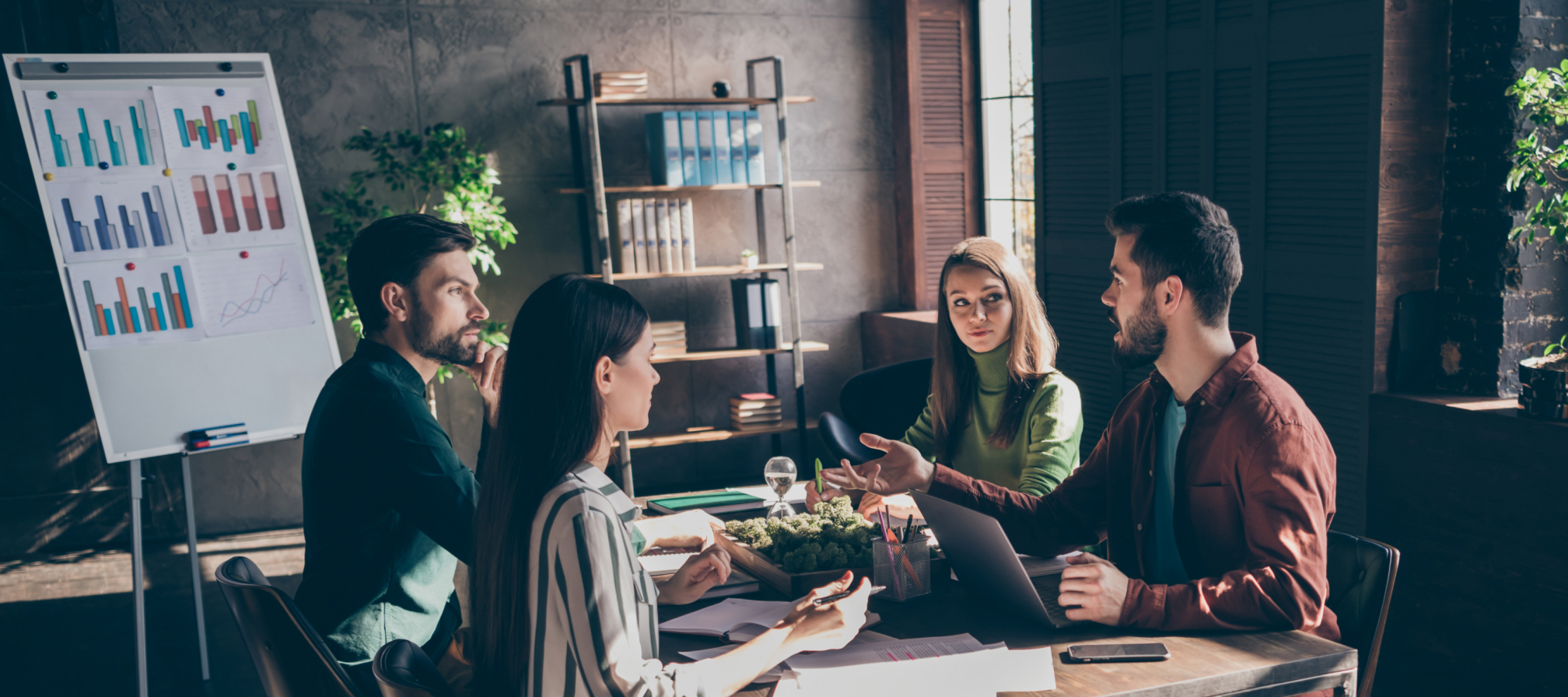 How to align the problem space?
It's a fact – aligning on the problem space is a crucial activity you should consider before moving on to ideation. To do that properly, you can conduct workshops to determine your goals and construct a strategy.
Some of the questions you and your product design team should answer while resolving the problem space in the product design discovery include the following:
What is the evidence that the existing problem is worth solving?

When was the last time we interacted with our target users?

Do we have quantitative and qualitative data about this problem?
Workshops are classic design brainstorming sessions that will be a fantastic opportunity to discuss problems, generate new ideas, and consult about new solutions. You don't need to limit workshops to the product design team members: sometimes, it would be great to include other teams or stakeholders.
There are two main goals of these workshops should be to:
Achieve alignment regarding the overall product, goals, priorities, and team roles 

Define main product features, prioritize their importance, and align them with users' needs.
Ideation in the product design discovery process
Ideation shouldn't dominate the discovery process, but it still bears significant value. The product design discovery process's first two stages are all about understanding the problem. In the following steps, you'll need to determine how to solve them.
Ideation is the time to get your creative juices flowing. Like workshops, you can brainstorm with your other team members. At first, throw out as many ideas as possible and then gradually work to uncover the best ones.
To crack a problem, you can sketch. Sketching is a specific form of drawing product designers use to suggest, explore, refine, and articulate their ideas. Once you are at the end of the discovery phase, you can wireframe these sketches into more rough, concrete ideas.
Testing or validation is the last stage of the product design discovery process. During this stage, you'll need to create a mockup, a prototype, or an MVP (Minimum Viable Product). You'll use them to gather users' feedback. Even though you and your team might have agreed upon the best solutions and ideas to solve your initial problem, it is only over once your users validate them.
Once you create your prototype, you'll need to reach out to your users and run some tests to collect feedback and see if you're on the right track. If your users validate your prototypes and react to the proposed idea as they should, you can move on to the next phase, which is usually development. If not – it's not the end of the world. You'll need to adjust and tweak your prototypes until you get confirmation from your users that this idea is what they need. 
Another great way to validate during the product design discovery process is to conduct usability testing, which means getting your users to complete some tasks while you're observing and making notes of their interaction with the design. The main objective of usability testing is to see how the users will interact with your design and use it to achieve their goals.
Another great way to test your users is the so-called Fake Door Testing, sometimes called the painted-door test. This method measures the interest by presenting users with a low-fidelity prototype of a product to see how many will try to use it and discover whether there is an existing market demand for such a solution. This testing method in the product design discovery phase has many benefits but also comes with some risks.
Users can sometimes feel confused or distressed, so having the right tool and knowledge to conduct such a method is crucial.
The final stage of the product design discovery phase
Once you've gone through all the discovery phase stages, you'll gain a defined project vision. Moreover, you'll have a highly documented journey you could constantly revisit to resolve possible upcoming issues.
Not all projects are of the same size and complexity, but most will get similar results from the properly conducted product design discovery phase.
Some of them include the following:
Information Architecture – a product outline with mapped-out infrastructure, features, and settled hierarchy
Customer Journey Map – a visual illustration of your customers' process while using your product.
Roadmap – a clear overview of the product's goals located within a timeline
Budget – an exact cost estimate representing the needed budget for successfully delivering the product
Wireframes – a lo-fi graphic representation of your digital product's framework.
The product design discovery process is a crucial stage that, unfortunately, some businesses still overlook. When building a product on assumptions instead of accurate data, they are gambling their money and time on creating a product people won't need. Moreover, with discovery, product design teams get inspired, are more creative, and discover new vigor for everyday tasks. It teaches you to think outside the box and start designing for your users instead of yourself. 
Finally, conducting a high-quality product design discovery phase before the project goes into development saves your other team members' time (and nerves)! 😀
This immersive video course will help you cover all the essentials, learn more about the industry, discover the types of products you'll work on as a product designer, and learn how to do it confidently.
After completion, you'll become a member of our growing and ever-helping community and receive a Supercharge Design certificate showing you're ready to conquer whatever product design challenges you might encounter.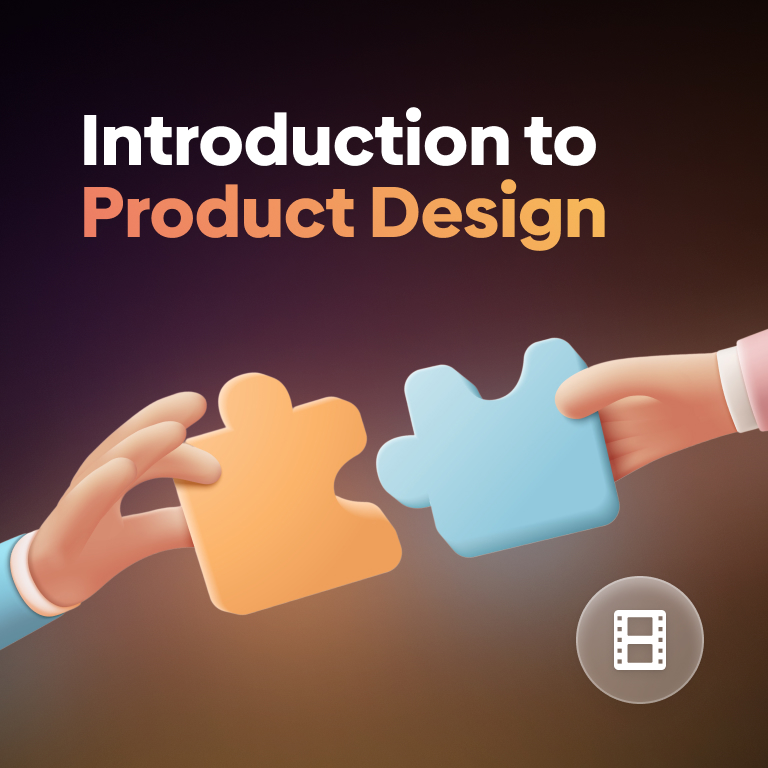 Introduction to Product Design
Learn the basics of product design in two hours
Find all the introductory information about product design process, product designer role, types of products you might work on.
You might like the following