Behind every great product, there is a spotless UX workshop! 
The critical component of a good UX design workshop is collaboration – amongst team members, other important teams, or clients.
In this article, you'll learn what a UX workshop is, its types, goals, and our tips & tricks on running a fruitful workshop every time, so keep reading!
What is the goal of a design workshop?
A UX workshop is a classic design brainstorming session where the product design team members, along with other teams or with a client, work to level ideas. Workshops are the ideal solution for uncovering and discussing problems, generating new ideas, and consulting about new solutions. They are also opportunities to get people from your team to work together.
UX workshops usually have two main goals:
To achieve alignment regarding the overall product, goals, priorities, and team roles;
To define main product features, prioritize their importance, and align them with users' needs.
A good UX workshop will help you and your team understand problems from diverse perspectives. Running a great workshop will kickstart your team's progress on any project and get everyone on the same page. It offers fresh perspectives, ideas you wouldn't even consider, and the overall sense of joint productivity. A workshop is different from a meeting or a discussion: it has its head and tail, and there are specific activities for you and your teammates.
How To Create a Good UX Workshop Agenda?
A well-constructed UX workshop has three cornerstones: questions, processes, and a goal. Combined, they form an agenda ensuring the exercises and discussions will fit your ultimate objective goal.
Questions are the information you and your team need to collect to reach your previously defined objective. Processes are the activities you'll go through to gather the data. Finally, a goal is the expected result of the workshop.
You could achieve several goals by running a workshop agenda, such as reaching agreements, building an understanding, idea-generating, or strengthening relationships between teams or stakeholders. 
2. Figure out the questions
Before holding a UX design workshop, you'll have to figure out the questions that need answers to reach your objective. These questions could include defining a target audience, outlining a good user experience, further user research steps, or potential roadblocks.
3. Select suitable processes
That will bring you a few steps closer to the ultimate goal. For example, opt for brainstorming activities if you need to develop new ideas for your product. If there is a design dilemma, consider prioritization exercises such as dot voting to reach an agreement within the design team.
4. Move on with the workshop
Once you figure out the previous three steps, your team members (and yourself!) will have a clear vision of what you are doing and what you need to achieve.
Once the workshop is over, you'll have to devise another set of activities to analyze the gathered information and share it with other stakeholders.
Finally, use the gathered data & results to move forward with steps that will help you reach your ultimate objective.
How To Facilitate a UX Workshop?
Critical elements of a high-quality UX workshop are preparations and setting a good foundation. To be a remarkable UX design workshop facilitator, you'll need to take care of several things.
Before you even start, you'll need to ensure all participants feel relaxed and ready to join the workshop, so strive for an unbiased and enjoyable atmosphere among participants. If you want your group exercises to be as productive as possible, keep the groups small. That way, people will feel more comfortable interacting. 
Specify your goal. Explain your agenda to all participants and keep them on the same page. That way, you'll make it easier for them to contribute. Refrain from staying in the workshop's focus – make your participants learn from each other, not only from you. Keep track of the productivity levels within the UX workshop, but don't interfere too much.
Another critical task is resolving unplanned situations, such as someone pushing an unwanted agenda or stalling too much. You and your team need to focus primarily on the workshop goal; to avoid unplanned discussions, write down any other engaging ideas and topics to discuss after the workshop.
Make the most out of your tools – use post-its and a whiteboard to allow your participants to explain their ideas and remarks. Post-its can help your shy participants to offer their opinions without disturbance.
Supercharge Tip – If you want to ensure your workshop is smooth and without hiccups, try the together-alone approach. This concept consists of letting the participants come up with their ideas and solutions alone, and then, in collaboration with other participants, they work to reach a solution. This effective method is the backbone of our workshops!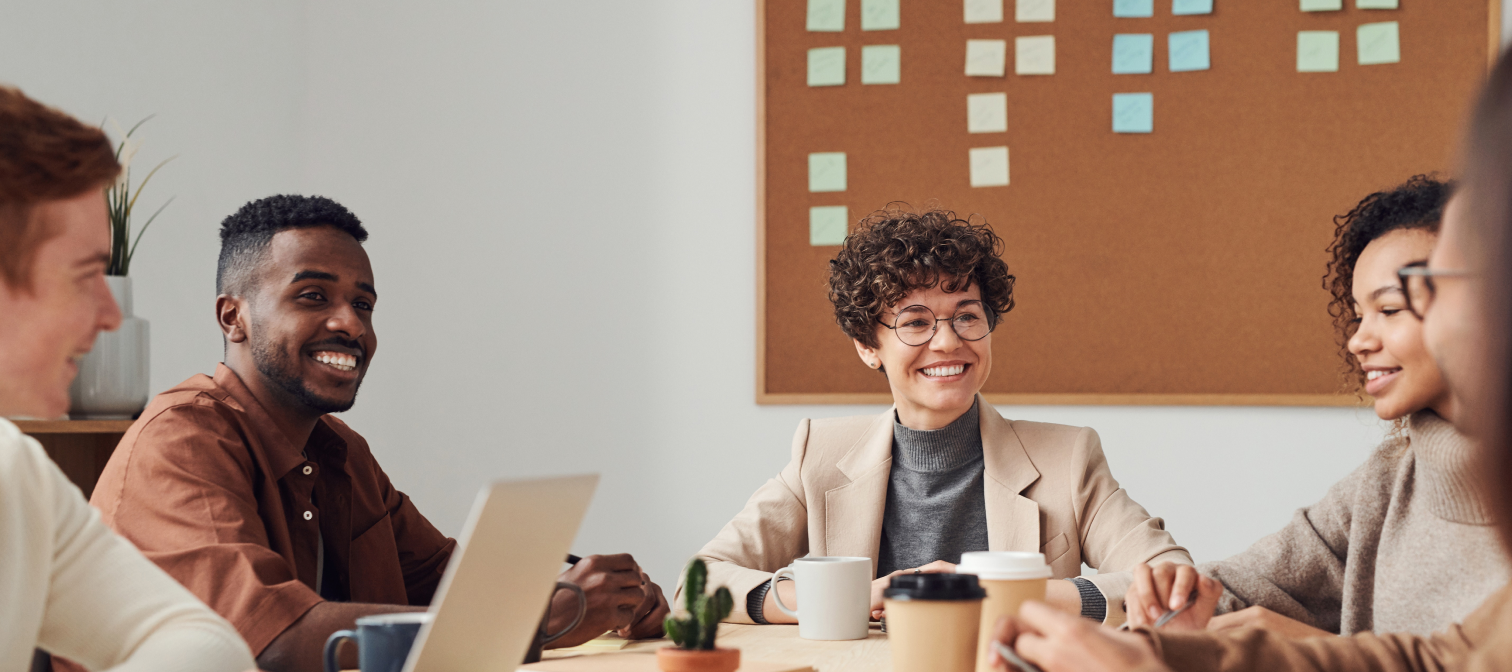 You'll need to ensure all participants feel relaxed and ready to join the workshop, so strive for an unbiased and enjoyable atmosphere among participants
The ultimate purpose of the ideation UX workshop is to develop a high-quality design that will solve a pre-defined problem by generating a wide array of ideas on a pre-defined topic. These ideas will not receive any judgment or evaluation until later, so this type of UX workshop is an excellent opportunity to explore different, unique, and out-of-the-box ideas.
The ideation workshop has three main characteristics;
First, there is no evaluation of the suggested ideas in the beginning, which will help participants bring their ideas to the table without fear or restraint. 
The second characteristic is documenting the ideas. You can record these ideas in any way you like; the goal is to save them before they evaporate.
Finally, the third part is creating an opportunity to promote collaboration within the group. 
Ideation UX workshops are best when organized at the beginning of a project. The essential part is to evaluate each idea using the three principles of design thinking: desirability, viability, and feasibility.
Discovery UX workshops have the goal of project planning and establishing milestones. With this type of UX design workshop, stakeholders express their expectations, agree on further research steps, and work closely to create a deep, mutual understanding of the product. With a discovery workshop, you'll comprehend what you need to start the project, deepen your knowledge about the product, and agree on future steps and priorities. 
Discovery workshops also belong in the beginning stage of the product. Still, they can also come in handy after achieving certain milestones to determine if the product design team is on the right track and what should be the next steps.
You can run an Empathy UX workshop when you want to identify your users' needs, prioritize them, and start designing a solution. The empathy workshop aims to discover relevant customers, their needs, motivations, and habits. With such discovery, product designers can develop a sense of empathy for their users and deliver a solution that will help them meet their objectives.
This UX design workshop is advantageous because it shifts your mindset from a feature-first to a user-first perspective. It's beneficial to run empathy workshops throughout the different stages of a design process. In the early stages, it helps you gather user insights and share them with the rest of the team. That way, you'll know the following steps to take to build laser focus on your customer's needs. 
The empathy workshop also works like a charm after user research or testing. Then, it gives you insight into the research results and establishes new directions or potential pain areas.
An innovation UX workshop serves as an opportunity to generate fresh ideas across different disciplines, especially when they come from main stakeholders. It involves people from other teams to broaden perspectives, add their input and develop ideas on upgrading the existing product. Usually, innovation workshops take place at the start of a project to establish co-ownership of ideas and the design process. It is also common to run innovation workshops after user research to share the findings and use them to generate input on solutions and features.
You can also run an innovation UX workshop after the initial design phase to explore the user flow.
You can run a prioritization workshop when you need to develop an action plan or a roadmap. This is the time to evaluate the importance of each element or feature based on customer & stakeholder feedback.
This type of UX design workshop has three primary objectives:
Ranking the ideas and features

Agreeing on which steps to prioritize

And most importantly, establishing focus
The insights from users on the features are precious in this type of workshop. Prioritization workshops are helpful at the beginning of the project, during user research, and after the design has started.
A critique workshop confirms that the design decisions match the users' needs. During these UX workshops, designers evaluate current elements (design or content) through the customer's eyes. They also usually come up with fast solutions for optimizing the product. This workshop is the time and place to examine the user flow closely and hear other professionals' perspectives. 
Moreover, you can utilize this UX design workshop to explore and compare the competition and define qualities you still want to achieve.
It's standard to undertake a critique workshop at the beginning of a project. Then, the team can review the existing design and compare it with previously agreed principles. Also, you can run multiple critique workshops along the design process to stay on track.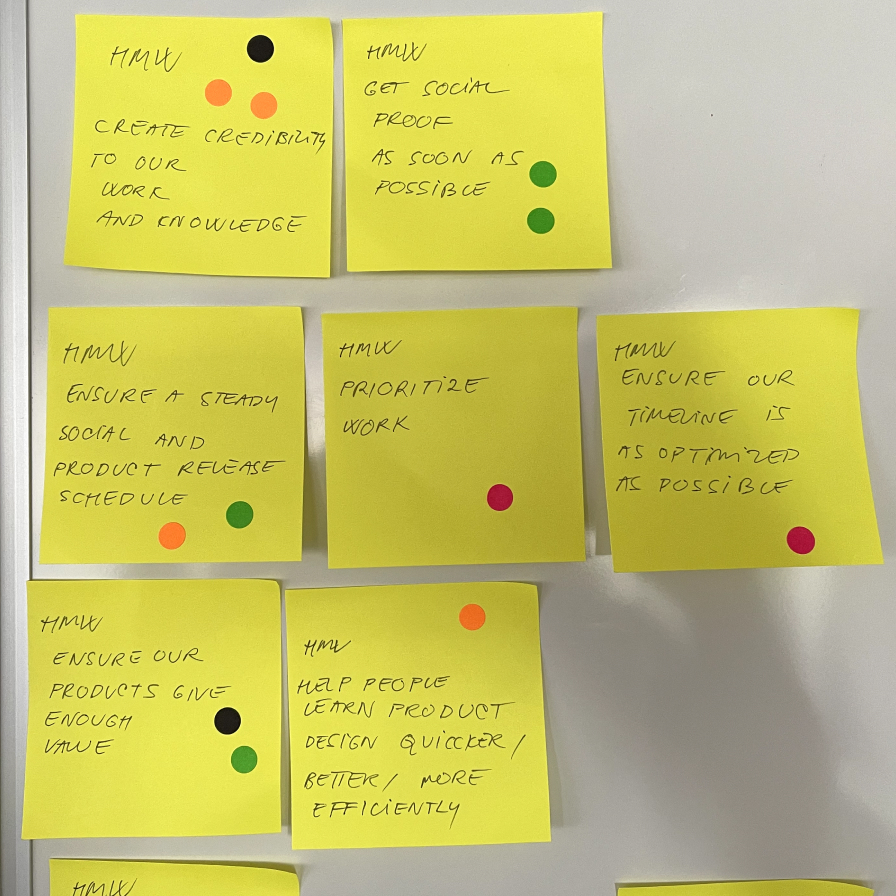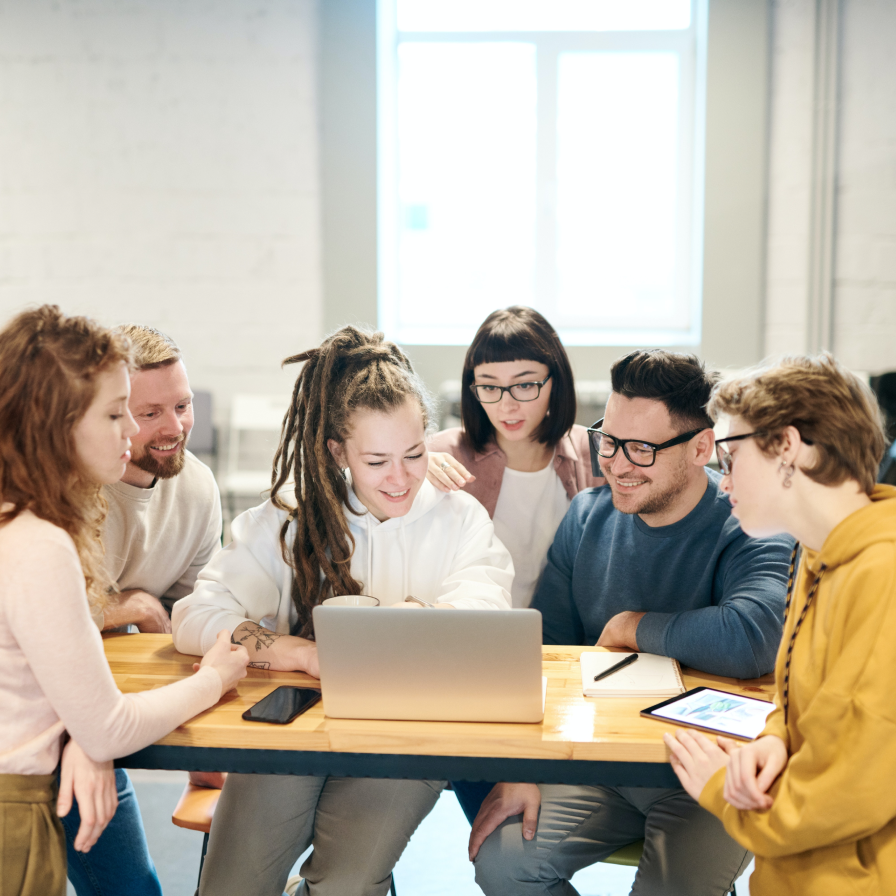 After the priority workshop session, each person comes to the whiteboard and votes on what the team should focus on first. Critique workshop, on the other hand, gathers the team around to discuss the quality of work done
Another popular and highly beneficial type of UX workshop is a Design Sprint. A Design Sprint is a unique five-day technique for generating ideas and tackling vital challenges through prototyping and testing ideas with customers. Design Sprint will help you understand, ideate, decide, prototype, and test during these five days.
At the start of the sprint, you must set a long-term goal. This goal should be a primary focus that'll keep everyone on the same page. Moreover, you must turn this objective into actionable steps by rephrasing assumptions and obstacles into sprint questions.
During the ideation part, you get an opportunity to come up with different solutions. One of the most interactive ways to do so is the Crazy 8s exercise, where you take your best solution and build eight new variations around it.
During the third part – deciding – you need to agree upon the best solution for the product. One of the best techniques to do this is to create a heat map. Participants have three-dot stickers each, assigning them to the sketch they find the most interesting. Total silence is a must. 
Now, we're moving on to creating a prototype. After concluding a solution, you need to take an entire day to prototype. Make sure not to waste your time perfecting the prototype – make it good enough to appear real to the users. In the end, there comes the testing part.
The Nielsen model proposes interviewing only five users who fit within your target audience profile. According to the Nielsen model, testing more than five users reduces the value of feedback since you'll identify 85% of the problems after listening to five people.
The questions and tasks for the user should imitate a real-world environment, and the sprint team should watch the recording.
What are the benefits of running a UX workshop?
There are different beneficial outcomes of running a UX design workshop, but let's go through the two most important.
Understanding the product – UX workshops will help you build a bridge between the client's vision and the design team's interpretation. As a product designer, you might be an expert in creating digital products, but being familiar with the context and knowing the primary product's principles will make your design foolproof.
Uncovering product challenges – Discovering and familiarizing the team with the product's challenges is one of the most critical parts of the UX workshop for both your client and your team. During the workshop, project stakeholders expose various issues, such as potential risks and hardships with implementing a design.
Supercharge Tip –  A SWOT analysis is a practical method when you wish to discover a product's strengths and weaknesses. It is a very popular method, but with a reason. It's a straightforward and effective method that assesses strengths, weaknesses, opportunities, and threats. By conducting SWOT analysis during the UX design workshop, you can improve your chance of reaching objectives and protect the product from failing.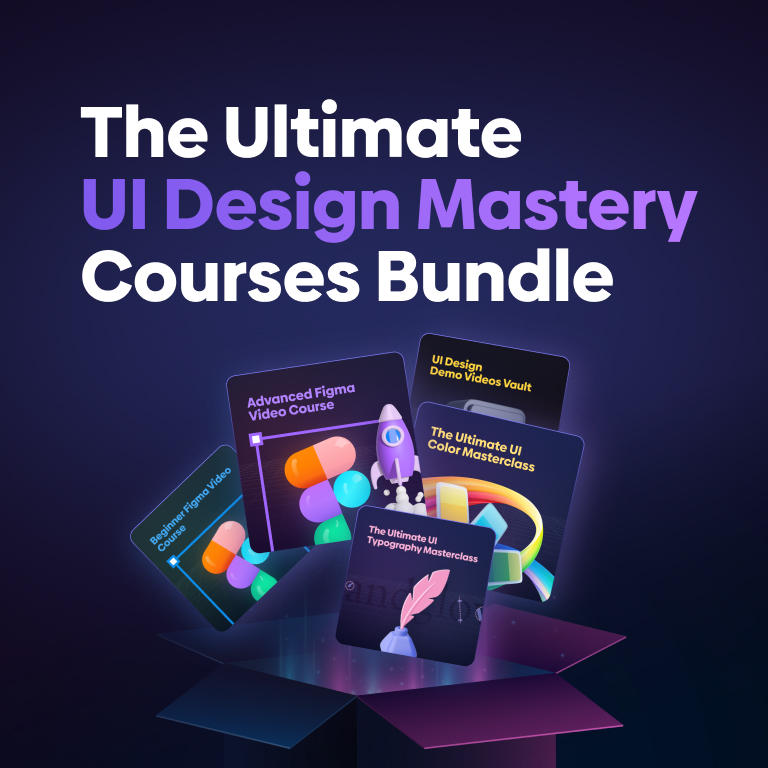 THE ULTIMATE UI Design Mastery Courses Bundle
Fast-track your path to UI design mastery and supercharge your career
Elevate your UI design skills and unleash your full design potential.
Confidently design stunning pixel-perfect web and app interfaces. Apply to higher-level design positions, enhance your portfolio, and impress your teammates and clients.
We hope this article will shine a new light on UX workshops and help you run a successful and seamless one when the opportunity arises.
If you want to learn more about the product design world, visit our blog or follow us on Instagram; we share heaps of helpful (and sometimes hilarious) content for various product design topics and career stages.
If you want to share your thoughts, feel free to contact us.
You might like the following