How to Speak Your Clients' Language in Product Design
Let's be honest – sometimes, when you're talking to your clients, it might seem as if both of you speak a language the other one can't fully understand.
There are times when your clients can't grasp your product design terminology and times when you can't figure out what your clients mean or want. They might've presented an idea, but it feels like there are misunderstandings once you incorporate it into the product. 
Other times you find yourself in situations when it feels like you're playing a game of telephone.
How to speak your clients' language in product design and ensure both sides get – and stay – on the same page? Read on to find out!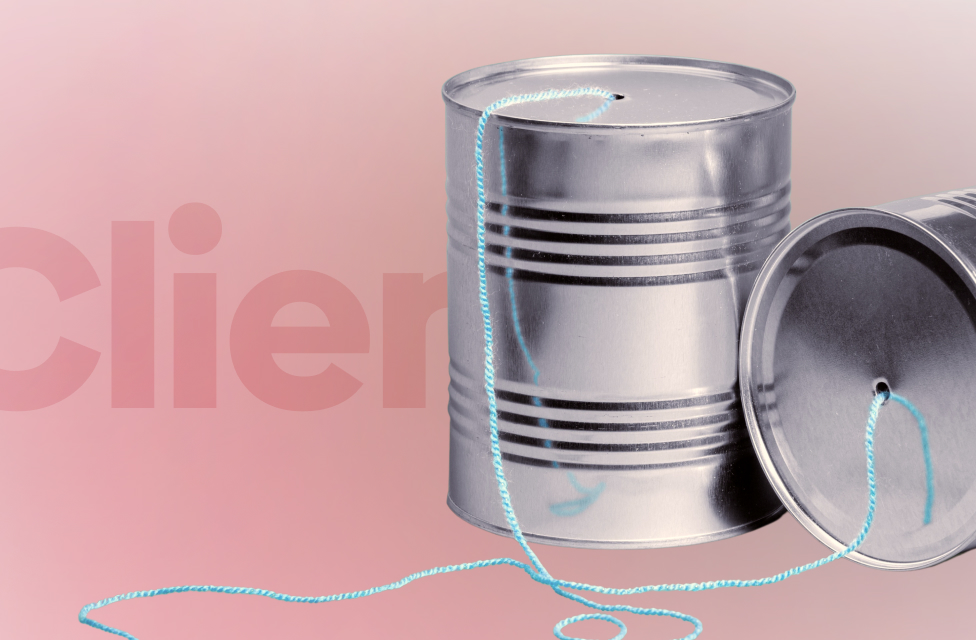 If you are a product designer, your scope of work often includes many professional terms. The way you talk consists of things that stem from your perspective. But, more likely than not, on the other side will sit a client who is not a product designer or has nothing to do with your profession.
If you want to learn how to speak your clients' language in product design, it is crucial to be on the same page to avoid potential halts. Otherwise, you both might end up losing resources (such as time). 
That will cause urgency, frustration, or even decrease the value of your cooperation.
Your clients might become overwhelmed when you use too much professional terminology, slang, and jargon, and they might tune out of the communication. 
That's why it's essential to become aware of the knowledge your client bears at the very beginning. If you figure that they don't know the meaning of "heatmap" or "user interviews," dedicate some time to simplify the terminology or share an example of how it works.
It is imperative to build a bond with your clients.
If you want them to stay for a more extended period, where the cooperation will flow uninterrupted at all times, you'll need to educate them. Your clients will love to know more about the processes you'll go through while working on their perfect product.
Educate them about your work and usual processes, tips, tricks, and various techniques product designers use to achieve perfect solutions. For example, engage your clients in a Design Thinking workshop, or explain the difference between the UX and UI.
Most clients like to deep-dive in behind-the-scenes of their soon-to-be product for two reasons:
they need to know what they are paying for💰;
they need to understand how it works 🤔 so that they can sell it.
There is nothing wrong with any of these reasons.
So, if you want to know how to speak your clients' language in product design, help them learn to speak yours. By educating your clients about the product design world, you'll help them grow. If you assist in their growth, you'll leave an excellent impression and build trust within your clients' lines.
Upgrade your vocabulary with terms from their world
Misunderstanding doesn't always happen on the clients' side.
Even though you're a professional product designer, you won't always be knee-deep in your client's niche.
To ensure you're familiar with your client's industry, you'll have to do your homework and make tweaks in your terminology, too. 
Grab some industry publications that are relevant to your client. Work to understand how they describe the situations.
When possible, try to attend relevant events and soak up the words and phrases they use in "their" world to explain challenging situations.
Explore your client's social media to familiarize yourself with their jargon. You can join relevant groups for more profound research, too. 
Another great way to learn how to speak your clients' language in product design is to read blogs and online articles. You'll see what and how they are writing about and learn to see things from their perspective. 
Before you can focus on designing elements for your perfect solution, you need to develop a communication strategy for current clients and prospects. Getting a client and connecting with them is only half the battle. If you want to win the "war," you'll have to speak their language too.
Learn how to explain the benefits
If, for some reason, you are not able to dive deep into the complete language of your clients, make sure to focus on learning how to explain the benefits.
It isn't necessary to know every single possible word they might use.
But, you must know how to answer general questions about what you bring to the table. More importantly, you must know how to clarify the benefits of the product you're working on in a way your clients will understand.
Also, there are diverse terms for the same things in different industries.
Don't worry – many clients can make the deduction without you working overtime trying to translate between their jargon and your own. The more you both stay occupied with terminology, you'll be less focused on what's more important – the benefits.
If you want to know how to speak to your clients' language in product design, you need to learn terms that will evoke only positive emotions within your clients.
Learn how to connect the product's benefits to their company, customers, and revenue. If you focus on discussing the benefits of your product, it won't matter you haven't absorbed their language.
How you intercommunicate with your clients is as important as designing a seamless solution. As we mentioned earlier, they must understand what's happening every step of the way to trust you (and cause as little disturbance as possible 😉 ). 
By cutting down your jargon, you'll show them they are not inferior to this project.
By educating them about product design processes and techniques, you'll present them with an opportunity to see their product from a new perspective. That will be the gift that could be even more valuable than the whole product – professional growth.
And finally, learning how to speak your clients' language in product design is unthinkable without comprehending more about their world.
Whether you want to take an industry deep-dive, or scratch the surface enough to explain the future fruits of your joint work, that's up to you and your resources.
We have no doubts about you becoming a native speaker of your client's language. 🤗
This advanced ebook will help you articulate your product design decisions to resonate with your clients and supplement your business goals.
If you have a question or a remark for us, feel free to contact us.
We look forward to hearing from you! 🥰
You might like the following