Design Job Hunt Templates
Simplify Your Design Job Hunt Process. Get Hired Faster!
Stop wasting your time on reinventing job application resources others have already perfected. Our design job application templates are ready to go!
Figma File

Professionally designed and easily editable
Time-saving

Supercharge your job application process
Fool-proof

Auto-layout allows for quick and easy customizations
Educational

Numerous job application tips and tricks
Getting hired has never been this easy
A single Figma file that solves all your job application torments
Does this sound familiar?
You waste a bunch of time creating design job application assets like CVs and motivation letters
You have a hard time thinking of what to include in your job application emails
You feel demotivated and exhausted while applying to design positions
You're missing out on work opportunities because you want to create customized applications for each job ad, but it takes too much time
Apply to design jobs more efficiently
Create custom design job application assets with just a couple of clicks
All designers have at one point spent too much time planning, writing, designing, editing, pixel-pushing, and customizing their CVs. Uncertainty on what to include in your job applications, motivational letters, and emails is something familiar to all of us in the design world. You're not alone!
But it all comes at a cost. I've personally missed out on some amazing opportunities because I just wasn't in the mood for these tedious and time-consuming tasks.
It's not like you're doing it once. Twice. Or a few times.
Each and every job application requires time and dedication. And all of that for what? Crickets?
Design job application is one of the most daunting experiences I have ever had to go through. If you feel the same, keep reading because there is a simple solution for this…
It doesn't matter if you're searching for your first design job or transitioning from a different field, crafting design job hunt application assets can be tiring, demotivating, and time-consuming.
After going through this myself and consulting other designers that had the same problem (it definitely happens to all of us), I've identified the most fundamental pieces necessary for going through job applications. And I templated them for you!
Save your time and energy for the fine-tuning that makes the difference! Spend more time on things that actually matter and focus on finding the right job posts for you. Let's make the design job application process a lot less frustrating!
Free easily-editable job application templates bundled with tips & tricks and a walkthrough video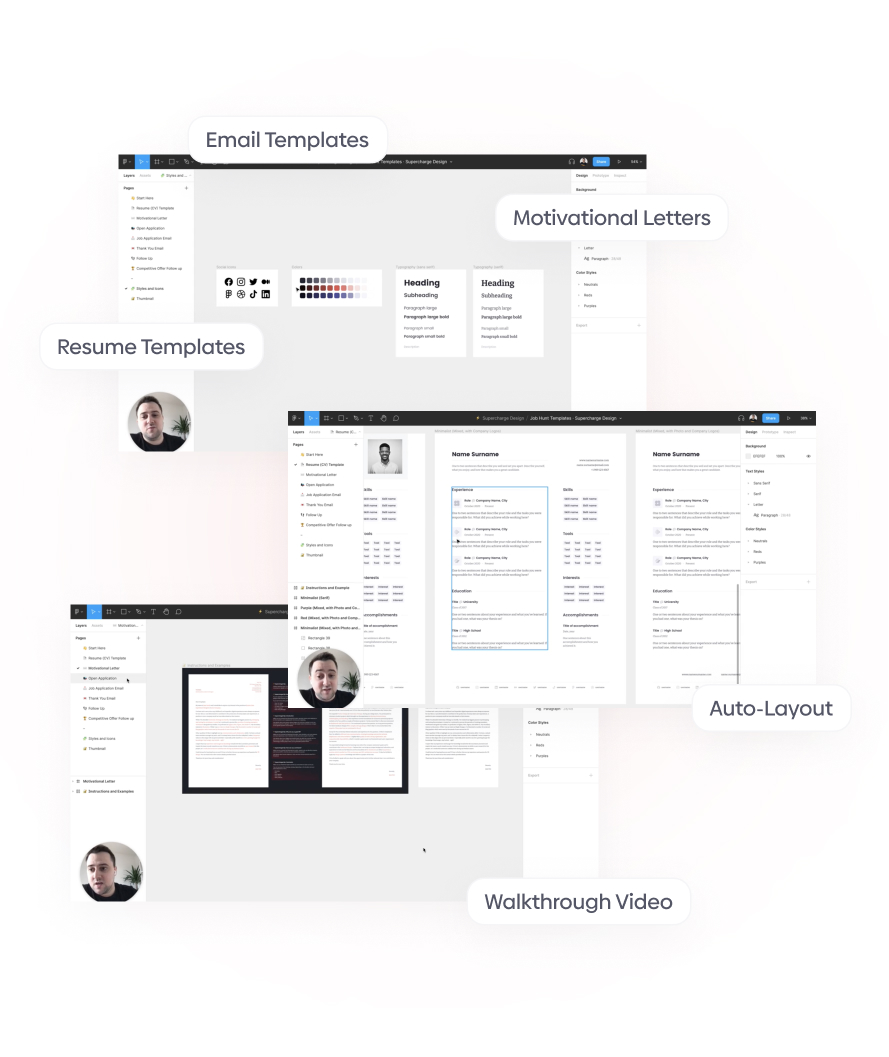 10 minimalist and stunning resume templates with sneaky advice on how to best fill out all the sections and how to customize it to your level of experience
A pair of motivational letters with explanations on how to tailor each section and what to pay attention to
Open application email template that you can use to contact awesome companies that interest you even when they don't have a job post active
Job application email template you can quickly customize and send alongside your application documents
Thank you email templates, different for each round of interviews to help you stand out amongst applicants with tips on how to adjust them with minimal effort, when to send them, and to whom
Follow-up email template you can send when the decision period is over but you haven't heard from anyone. Let's get that response with three clicks: copy, paste, and send!
Competitive offer follow-up email template for situations when you receive an offer from someone, but you would prefer a position in a different company
Everything mentioned above is neatly arranged in Figma's life-saving auto-layouts to make those small modifications as easy as possible and your documents immediately ready for export
Numerous comprehensive and educational tips on how to best fill out design job hunt documents and emails
Spend your time polishing the details that matter and personalizing the applications to the job ads, instead of starting completely from scratch every single time. With these easy-to-use templates, you will never again spend more than a couple of minutes preparing your job application documentation and emails!
All the most important situations you can find yourself in while job searching are covered with this one free product! Once you have the access to this file, you will receive lifetime updates to all the templates.
If making your design job applications as seamless as possible sounds appealing – then be sure to download the free Design Job Hunt Templates!
Supercharge Design Alumni 🧡
What do other designers say about Design Job Hunt Templates? 💬
FREQUENTLY ASKED QUESTIONS
You asked, we answered! ✋
Download for free and simplify your job hunt process
Get your copy of Design Job Hunt Templates
"*" indicates required fields
Supercharge Design products are hosted on Teachable – a secure, and powerful platform.
You will be asked to create a profile or log in.