Essential UX/UI Job Interview Handbook
Master the art of charming recruiters and get hired faster
Gain a competitive edge by diving deep into 100+ UI/UX designer interview questions and answers.
Learn how to tackle tough UI/UX designer interview questions, showcase your skills effectively, and stand out in a crowded field. Are you ready to get that dream job?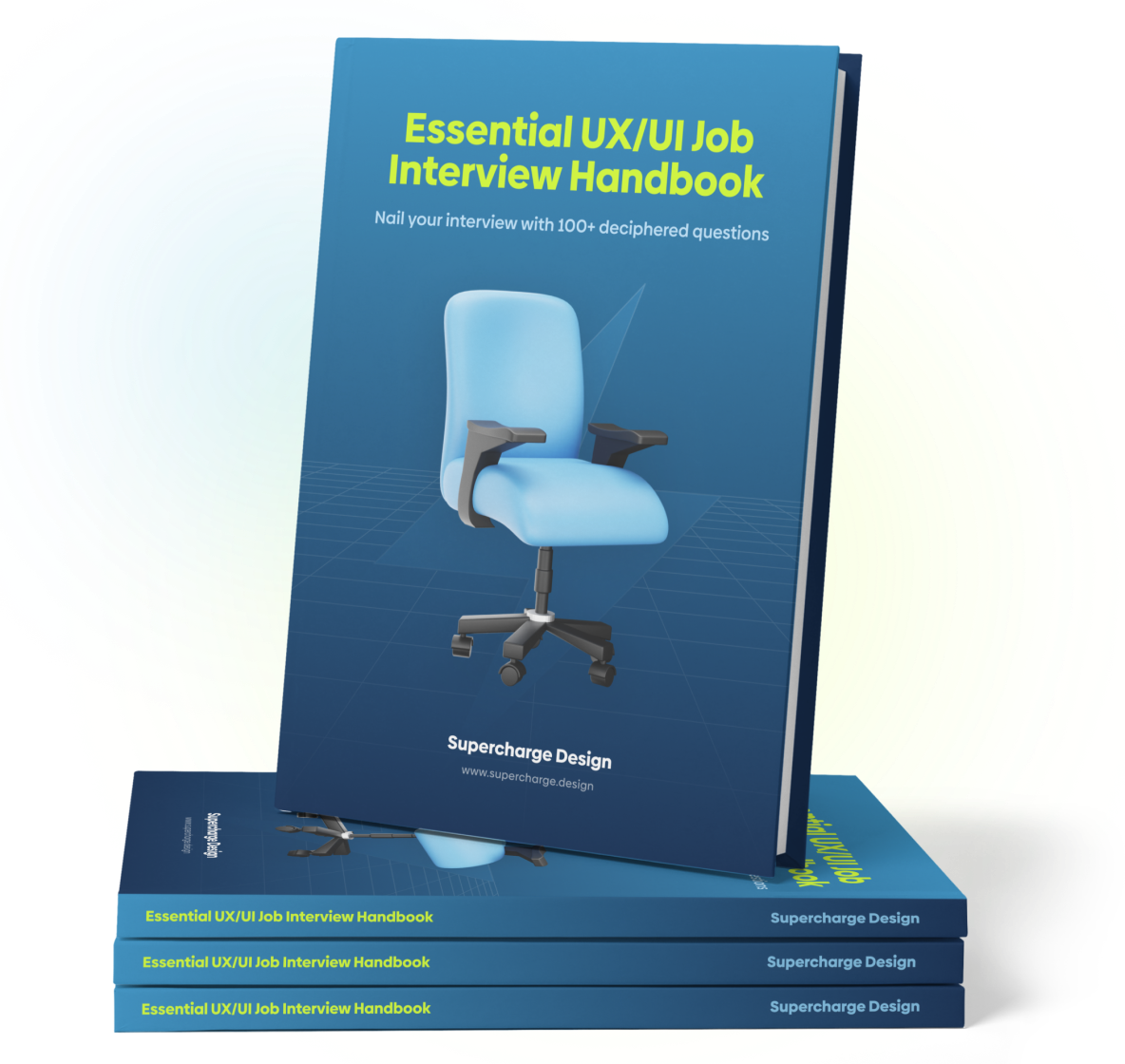 The make-or-break point when winner-gets-all
The job interview is one of the most important steps
in getting a job
The job interview is the main opportunity for you to show who you are, what you can do, and why you're the right fit for the job. It's where they get to know you beyond your resume and see if you'll be a valuable addition to their team. It's a chance to make a strong impression and demonstrate your skills, enthusiasm, and how well you'll fit into the company's culture.
A successful interview can lead to a job offer, while a poorly handled one might cost you the opportunity.
The most challenging part of preparing for a job interview is the stress and uncertainty that come with it. Not knowing how to best showcase your skills, feeling unprepared for potential UI/UX designer interview questions, and struggling to present yourself confidently can be daunting. Overthinking and lack of clarity during the preparation can lead to anxiety. It's also frustrating when you're unsure how to present your knowledge and experiences in a way that aligns with the job's requirements.
These difficulties can make the process overwhelming and hinder your ability to present your best self during the interview. Job interviews are important moments in your career, deciding your path.
Secure the best possible future for yourself by taking an adventage of the most crucial moment in the UI/UX job application process.
Essential UX/UI Job
Interview Handbook
Essential UX/UI Job Interview Handbook goes over 100+ most commonly asked UI/UX designer interview questions and prepares you to answer each and every one of those in the best possible way.
Say goodbye to missed opportunities and stress.
Say hello to knowledge that builds unshakable confidence that allows you to shine like a true design star!
Get equipped with knowledge, wit, and charm that will allow you to crack the toughest interviewers and pave your way to your dream job!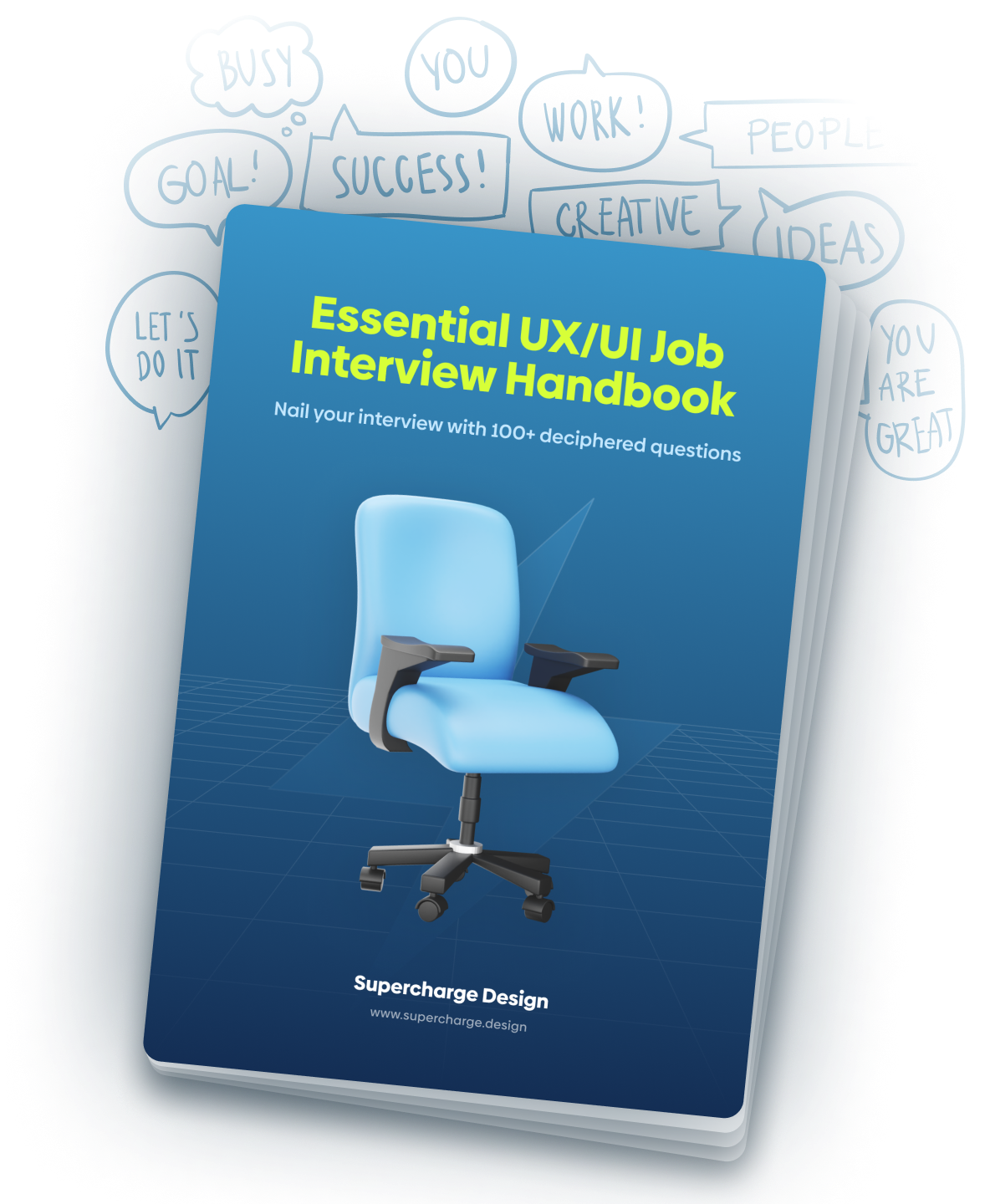 This is your map to your dream job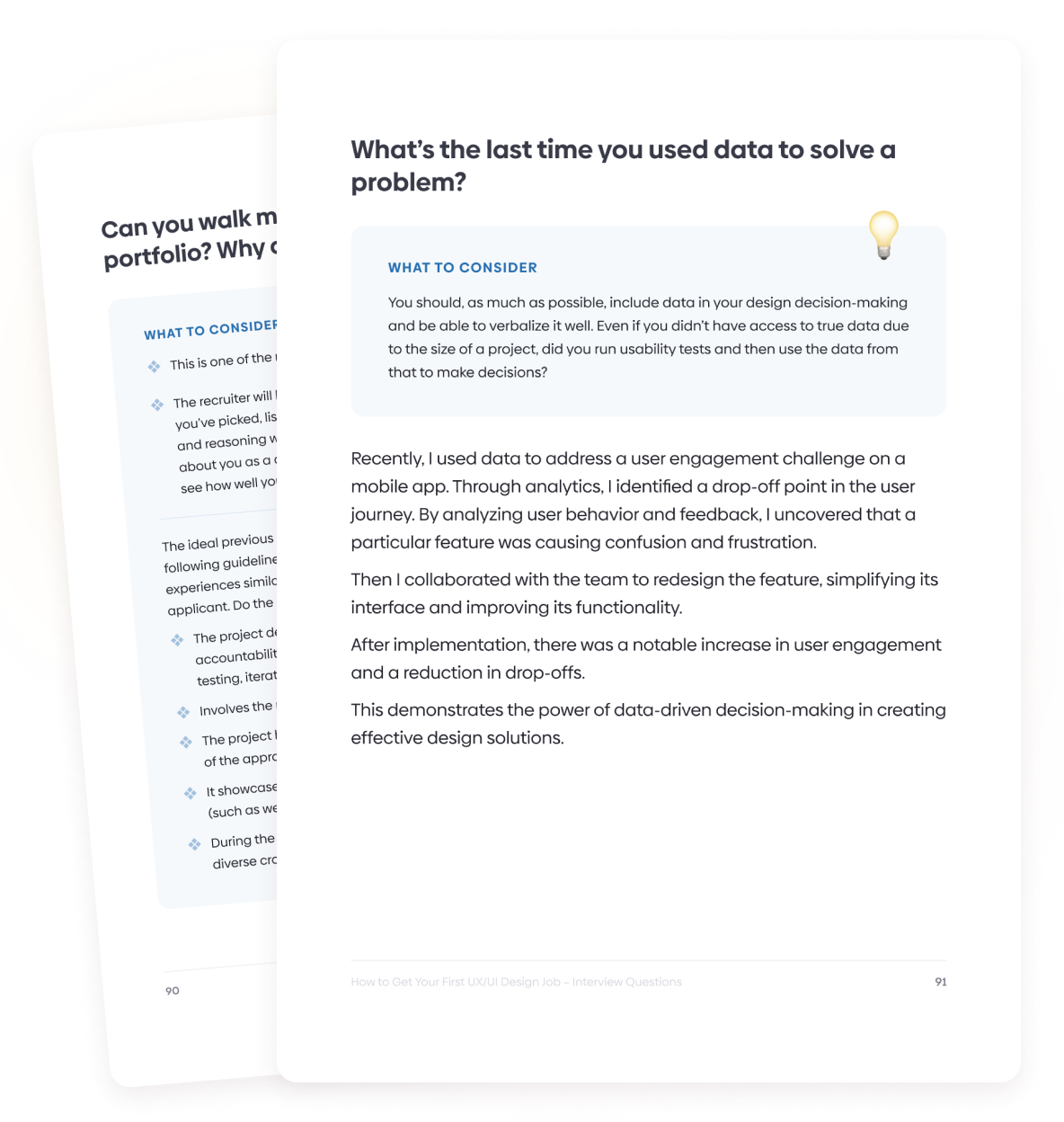 100+ pages

100+ UI/UX designer interview questions and answers

Theoretically oriented design interview questions and answers

Interview questions and answers about handling common work situations

Design interview questions and answers that assess your personality, preferences, and cultural fit

Interview questions and answers about your previous experience

How to research the company you're interviewing for

Questions to ask the recruiter
FREQUENTLY ASKED QUESTIONS
You asked, we answered! ✋
Get access to the Essential UX/UI Job Interview Handbook
Master the art of interviewing and
secure your dream job
Essential UX/UI Job Interview Handbook
$29
inclusive of VAT, if applicable
€ 26.68
inclusive of VAT, if applicable
E-book with 100+ pages

100+ common UI/UX designer interview questions and answers

Tips and tricks

Questions to ask recruiters during the interview