Design Challenges Workbook
Build product design skills and a hire-worthy portfolio
Learn by doing – real briefs, immersive projects, expert tips!
Use Design Challenges Workbook to solve real-life problems you can use to fill your design portfolio or brush up on your UX/UI and product design problem-solving skills!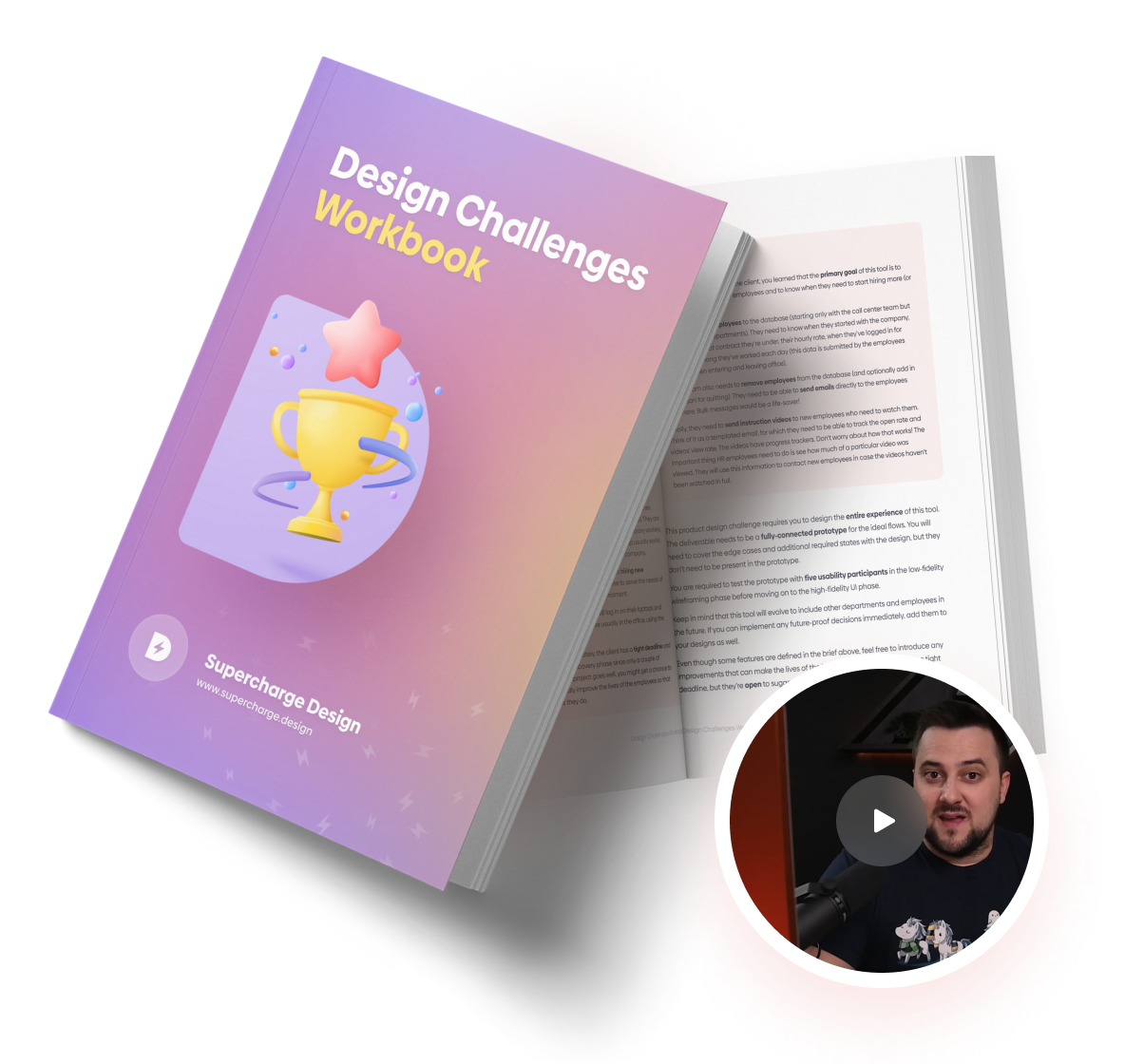 Are you missing out on WORK opportunities?
Check for these common design portfolio pitfalls
Play projects

Unnecessary redesigns

Short project descriptions

Ignored by recruiters
Solutions to real design challenges

Immersive case studies

Projects built around realistic constraints

Recruit-worthy presentation
All 15 design challenges in the workbook are based on real…
Clients
Detailed descriptions on who the client is and what their expectations are, varying from startup founders to established businesses
Tasks

Various product types (websites, mobile apps, etc.) and skills needed (research, UX, UI) allow you to build a portfolio relevant to the work you want to do
Problems

Comprehensive and realistic descriptions of the design problems and the goals your clients have, alongside the specific audience you need to design for
Constraints

Real projects always have constraints and you need to balance time, budget, and technological constraints – all of these are included with each design challenge
Design Challenges Workbook contains everything you need to land a good design job and advance as a designer
How to approach different projects
How to analyze project constraints the right way
Best practices for different project types and phases

What to focus on in each stage of the project
How to future-proof the project
How to think like a senior within different project phases

Helpful instructions on how to build a case study

Practical, applicable tips on user research, usability tests, and design process in general
If you're like the most novice product designers
You most likely got the design industry wrong…
I studied design. I went to all the relevant classes, completed all my homework assignments, had good grades, and wrote all the papers. I graduated and never thought too much about the next steps. I had complete trust in the educational institutions.
Feeling proud of myself for reaching my education goals, I gave myself a short period to rest after graduating and then started applying to design jobs. I thought the companies were just waiting for young designers like me. After all, I kept hearing that designers are in demand.
I crafted my CV, included a couple of smallish projects from college studies into my portfolio, and started applying to jobs. I was in for a rude awakening... The visual skills I focused so hard on, and the skill of listening to college lectures did not qualify me for meaningful, high-salary UX/UI design work.
I was educated but unemployable. Rejection after rejection, I started noticing the pattern in what people were telling me behind those fancy-worded rejections I received.
I actually had no real problem-solving skills, or at least I didn't showcase them in the right way. My portfolio was focused on theoretical knowledge and visuals. I had no idea how to apply that theoretical knowledge to real-life projects even though I thought I was doing everything right. If the rejections didn't keep repeating, I wouldn't even believe them.
You only learn this AFTER BEING HIRED
Myths about your design career that are quietly sabotaging you
You need a combination of meaningful insights, implementation resources, and real-life practice
Stop hiding from hard tasks your brain hates and refuses, and start taking action on the things you've learned. That means applying your design knowledge to different, realistic design projects!
Take charge, start making money, get the job you want or get that raise! 💰 It takes work, but it's so worth it!
If you're ready to change the narrative of your career and you'd love to get actual, tangible, measurable results and the money in the bank – we've got a resource-packed roadmap with your name on it! 🚀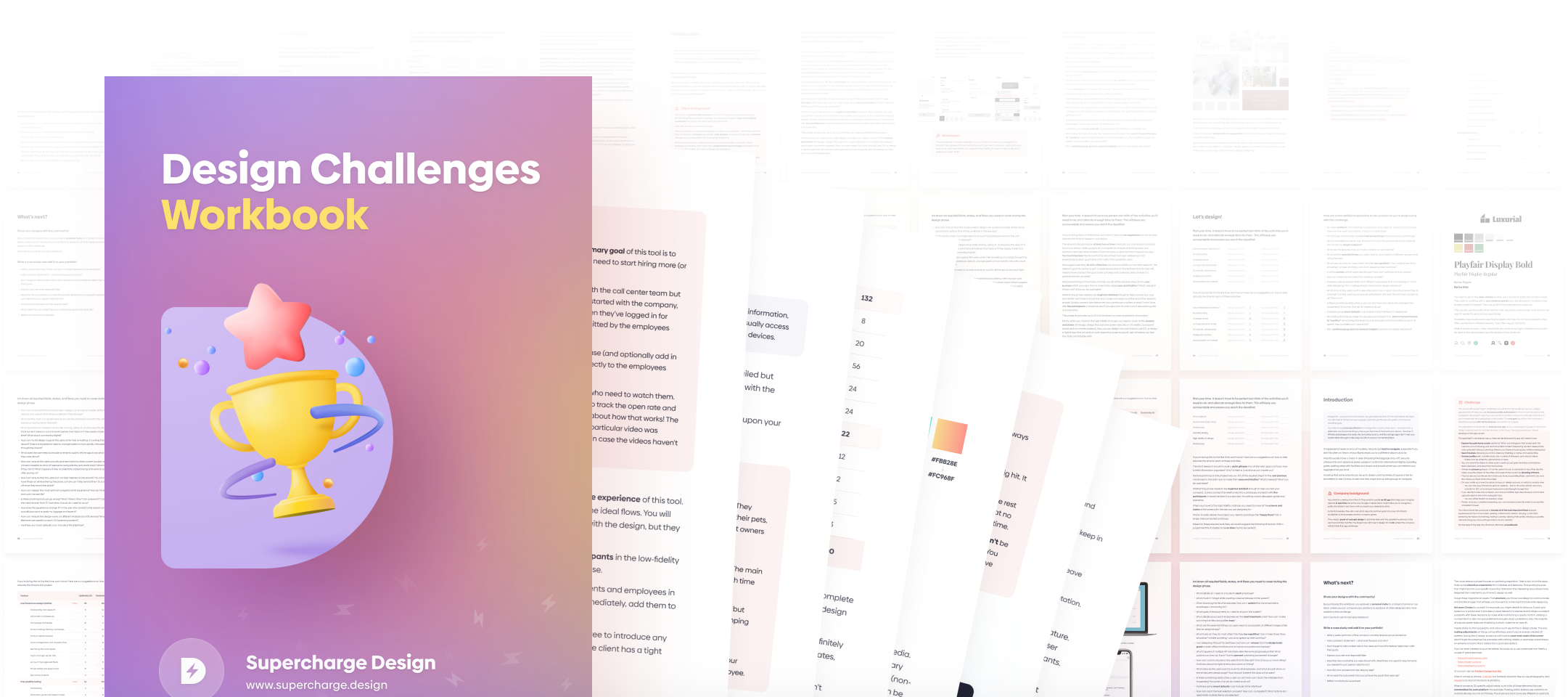 Design Challenges Workbook
are a beginner who recently started learning UI and UX design
have little or no experience with tackling real projects start to finish
never had insights into how an experienced designer works and thinks
don't have enough designs for your portfolio
want to sharpen your problem-solving and creative skills
exclusive project briefs – client descriptions based on our old clients, realistic constraints, and clear business and user goals
tips on how to problem-solve each specific design challenge
explanations and arguments for and against potential design decisions
diverse project briefs with UI, UX, and research problems to solve
complementary videos for each challenge
When you join, you will instantly receive…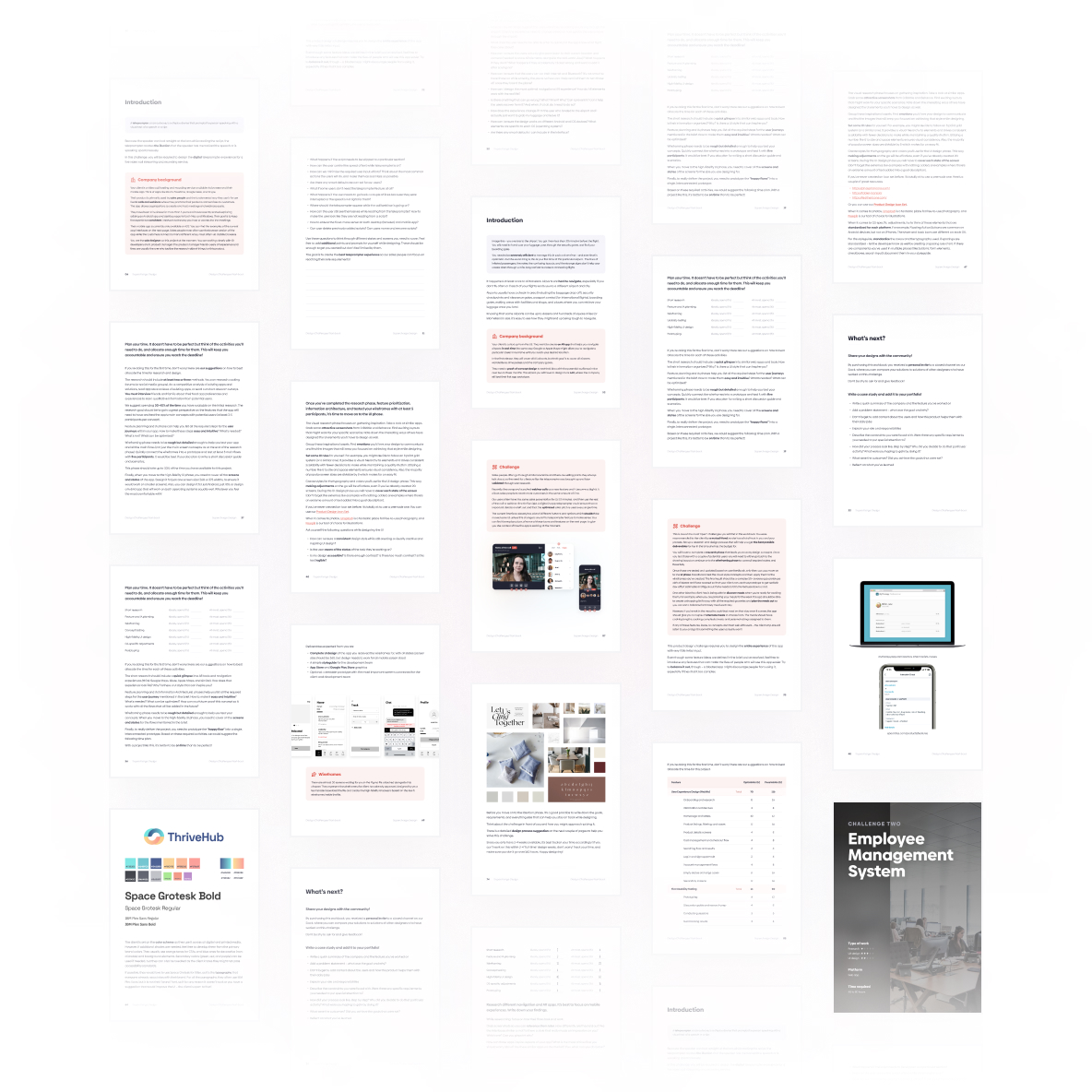 Access to all design challenges in this workbook
UI, UX, and research-oriented challenges
Different difficulties and workloads to pick from
Various platforms and product types to design for

Company background for each design challenge

Detailed project introduction and constraints – just as if you worked on a real project and communicated with a client about it
Recommended steps to take, with advice on how to approach each step and how much time to spend on each step
Questions to ask yourself that lead you through every project and step in the design process
Examples of usability test scenarios, applicable tips on user research, practical design tips, and advice on the most important design steps
A simple guide on how to create perfect case studies from the design challenges you've worked on and solved
Access to complementary videos and bonus resources
Bonus materials consist of
Helpful video guides (15) for each challenge, tips on what makes each challenge specific, who it's for, and how to approach it
Challenges Selection Guide that helps you choose the best challenges based on your skills, knowledge, and goals
Checklist files for UX research, UX design, and UI design that allow you to double-check if you covered everything – applicable to all projects, not just challenges in this workbook
Walkthrough of one challenge solution – a blueprint of a case study for that challenge you can use to tweak your approach to other challenges (upcoming)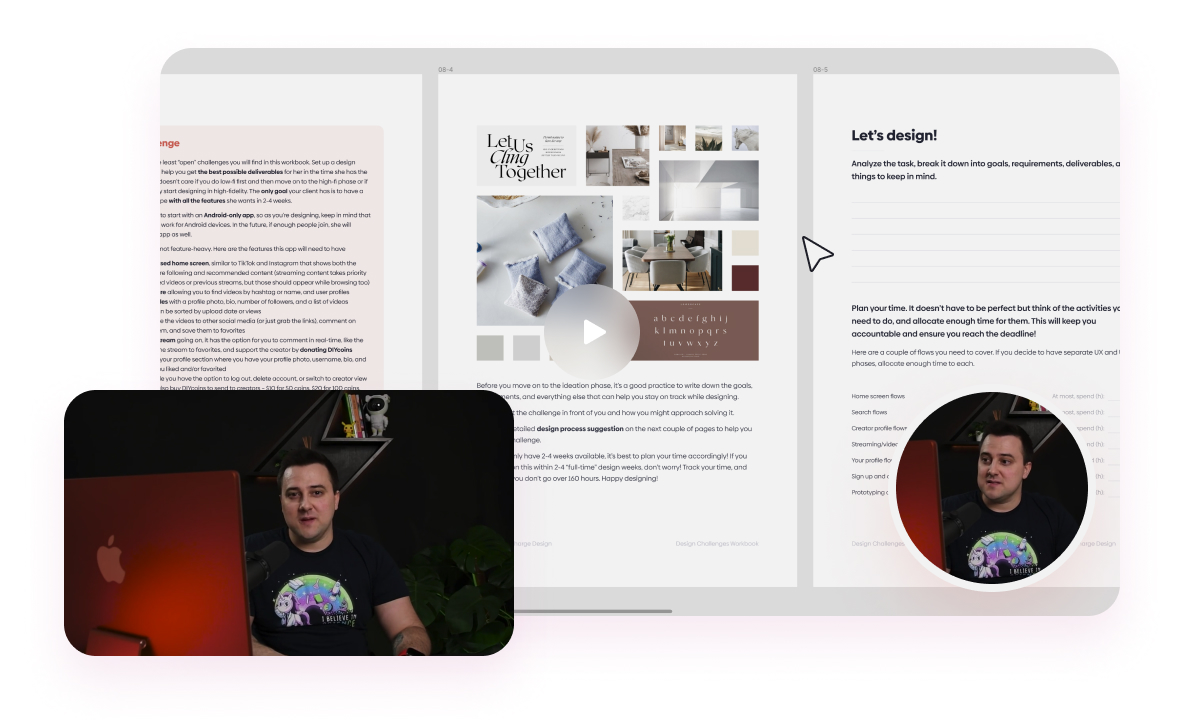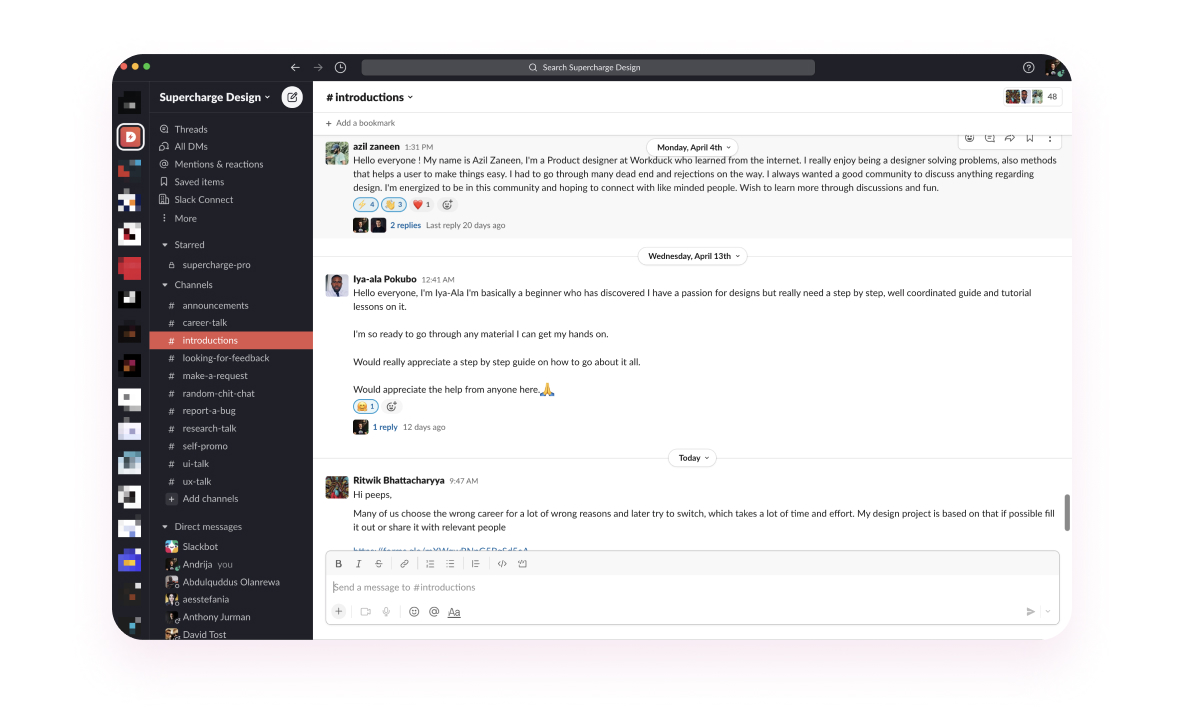 Access to a dedicated Slack channel
In our Slack channel, you can
Compare the solutions and learn from other students' solutions
Comment on your progress and get feedback and tips on how to continue
Ask questions and ask for guidance from the Supercharge team and other product and UX/UI designers
Team up and solve some of the design challenges together with other students – practice productive collaboration
Practice and enrich your portfolio
Learn how to solve complex design challenges with real product design task examples
Review

real-life project briefs based on the client projects we worked on
Learn

insightful design tips and processes from expert designers
Think

through thought-provoking questions while designing
Solve

specific research, UX, and UI challenges with realistic constraints
Grow

your portfolio with stellar case studies and brush up on your design skills
Compare

your solutions to the solutions of other UX/UI and product designers on Slack
Our alumni ❤️ this workbook
These are the people who struggled with the same things as you do now

I've never had a mentor. The design challenge I did was such a new experience for me! I am so grateful as the challenges connected the pieces together for me! Thank you!

I felt a bit insecure about taking on a project I was asked to do, but after rapidly going through two design challenges within just 10 days, I felt a lot more confident. I ended up building an amazing relationship with that client!

Can't believe how interesting some of the design challenges were! The detailed briefs made such a difference. I'd recommend this to any beginner!

I've been following you for a while on Instagram! Decided to give this a chance, and I can't say how happy I am for doing that! This is so value-packed! You'll gain so much experience!

Really appreciate that I was able to choose from so many different project types! You get a real design problem and being new in this field, it helped me learn Figma alongside learning how to design.

This boosted my progress toward the intermediate level immensely! It's a cliche, but all good things are hard, and I truly believe this was a perfect example of it! You have a huge recommendation from me! Thanks y'all.

I never had the confidence to say "I'm a designer" even though I have been teaching myself design for 9 months. After completing a few of these design challenges I can finally say that I feel like a designer!
FREQUENTLY ASKED QUESTIONS
You asked, we answered! ✋
Supercharge Design 7-day money back guarantee
We offer a 7-day no-questions-asked guarantee for all our digital products through Teachable, one of the most well-known educational platforms in the world
We are confident you'll love our products and that they will help you reach your goals, but we also know it's a lot easier to make a decision once you know there's no risk for you 🤗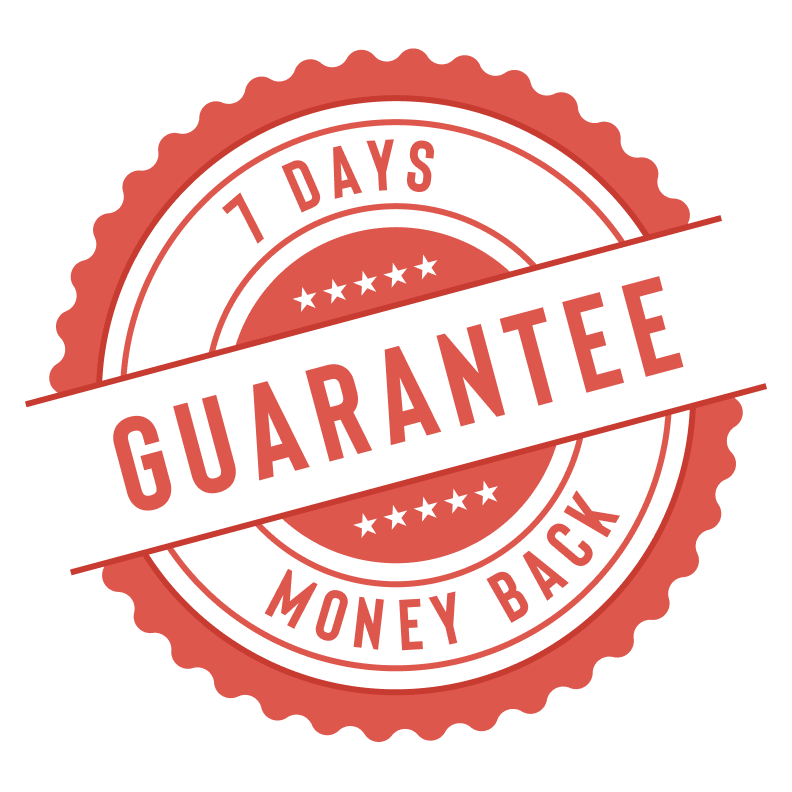 Get Design Challenges Workbook
Build a hire-worthy portfolio with ease 🤗
$79.00
inclusive of VAT, if applicable
HRK 575.88
inclusive of VAT, if applicable
Immediate access to all 15 challenges, 18 videos, and bonus materials
Detailed client descriptions, user and business goals, and project constraints
Expert designer tips on how to approach and solve each challenge
Research, UX, and UI challenges with difficulty ratings
Work on various project types – websites, web apps, mobile apps, a wearable app, an eCommerce platform, an AR app, and more
Exclusive Slack channel access – compare your solutions to other designers' solutions
Bonus checklists for research, UX, and UI projects helpful for any future project, not just the ones from the workbook
Lifetime access and updates