Get mentored by an industry expert and boost your career
Use a senior designer's experience and insights to solve your problems, reach your goals, and supercharge your progress.
Get support in preparing for job interviews, landing your dream job, polishing your portfolio, or simply in being a stellar UX, UI, and product designer.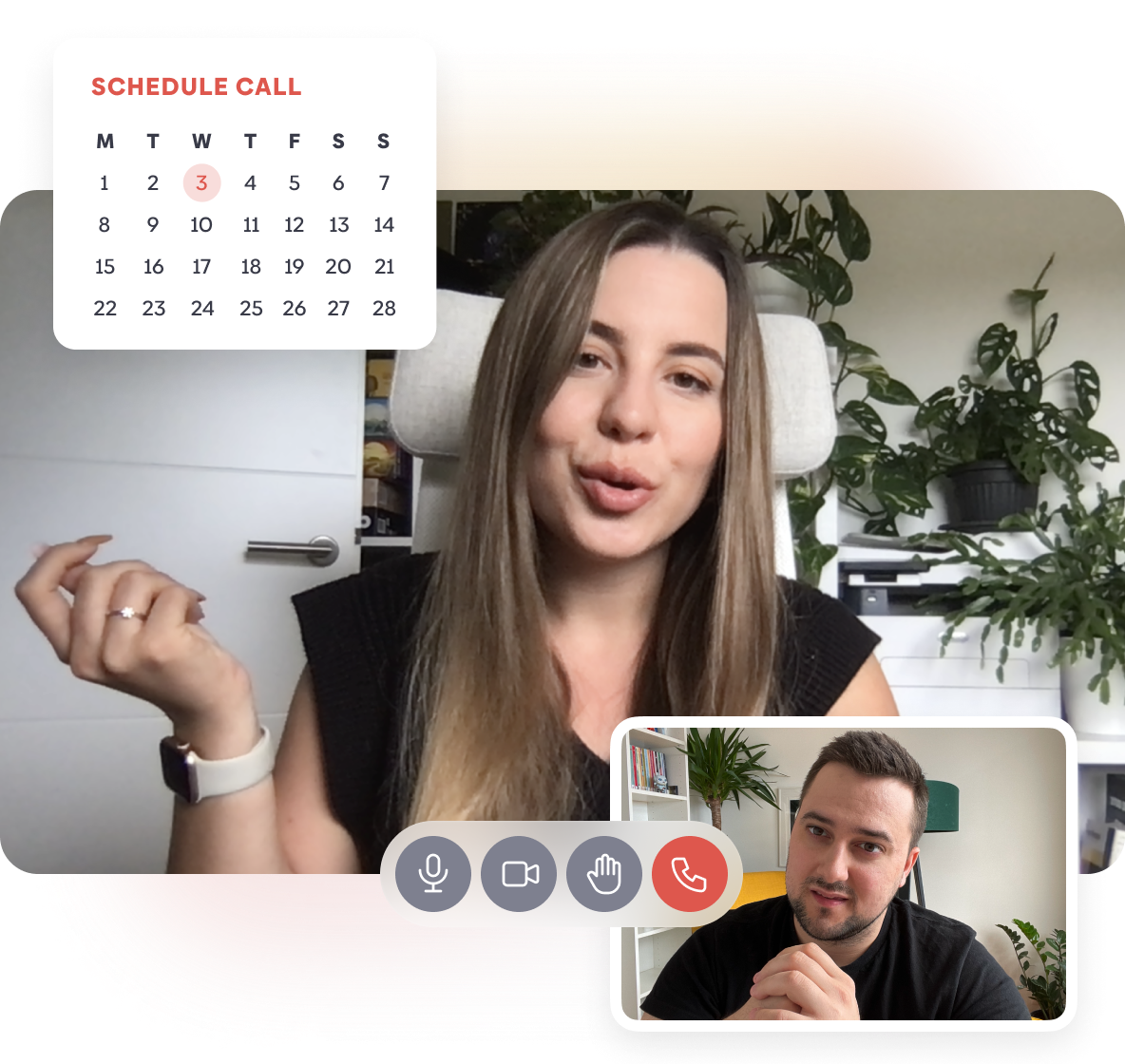 SUPERCHARGE YOUR DESIGN CAREER
Success and confidence are just one call away
Structured guidance and mentorship will help you develop into a more self-assured, and successful designer. Grow rapidly with an experienced design mentor. Your next big step can be made possible with superior mentorship.
Imagine yourself in a year or two. Where do you want to be? What do you want to achieve? Here are a couple of goals you can reach quickly with our coaching 👇
You are regarded as a professional and a team member that actively contributes to projects, instead of being an order-taker at the end of the chain of command
You can ask confidently for better rates or higher salaries because you know how to provide more value to the clients and employers
You know how to differentiate yourself from other designers, which results in easier client acquisition or a raise
You produce work that converts, which results in satisfied clients or employers, and more referrals
You take your knowledge and skills to a whole other level
BRING OUT THE PRO DESIGNER IN YOU
"A mentor is a brain to pick, an ear to listen, and a push in the right direction."
Increased knowledge, personal and professional growth and development, constructive and actionable feedback, words of encouragement, unbiased opinions, a trusted ally, smart goal setting, holding you accountable, new perspectives, networking connections, developing leadership skills, rising and fortifying your confidence, inspiration, motivation…
This list goes on and on! The benefits of having a mentor are huge and it's one of the best things you can do for your career. Our Supercharged mentor will help you work out where you want to go, and how to get there. He's your personal partner in growth and a trusted advisor.
Our approach to mentoring puts an emphasis on questioning, listening, and tailoring the approach just for you. Skyrocket your design career with ease!

OUTPERFORM THE COMPETITION
Don't leave your growth to chance
Know

where you currently stand and what your strengths and weaknesses are
Set

personal goals and tailor them to your situation so they're more achievable
Receive

valuable and specific feedback, industry tips, career coaching, and more
Practice

your design skills in any area of interest (research, UX, UI, strategy, leadership, etc.)
Upgrade

your design craft skills, design portfolio, or soft skills you need for that next role
Become

a designer who gets hired for their stellar design and problem-solving skills
MENTORING Tailored for you
Let's personalize this mentorship to your specific needs
Mentorships can take many shapes and forms. They can be clearly structured, or have no structure at all. Here in Supercharge, we don't believe in a one-size-fits-all approach. We tailor every single session to fit your wishes and needs. You're the boss! So just let us know what can we help you with?
Let's go through a couple of examples of what you can ask from our design mentoring calls…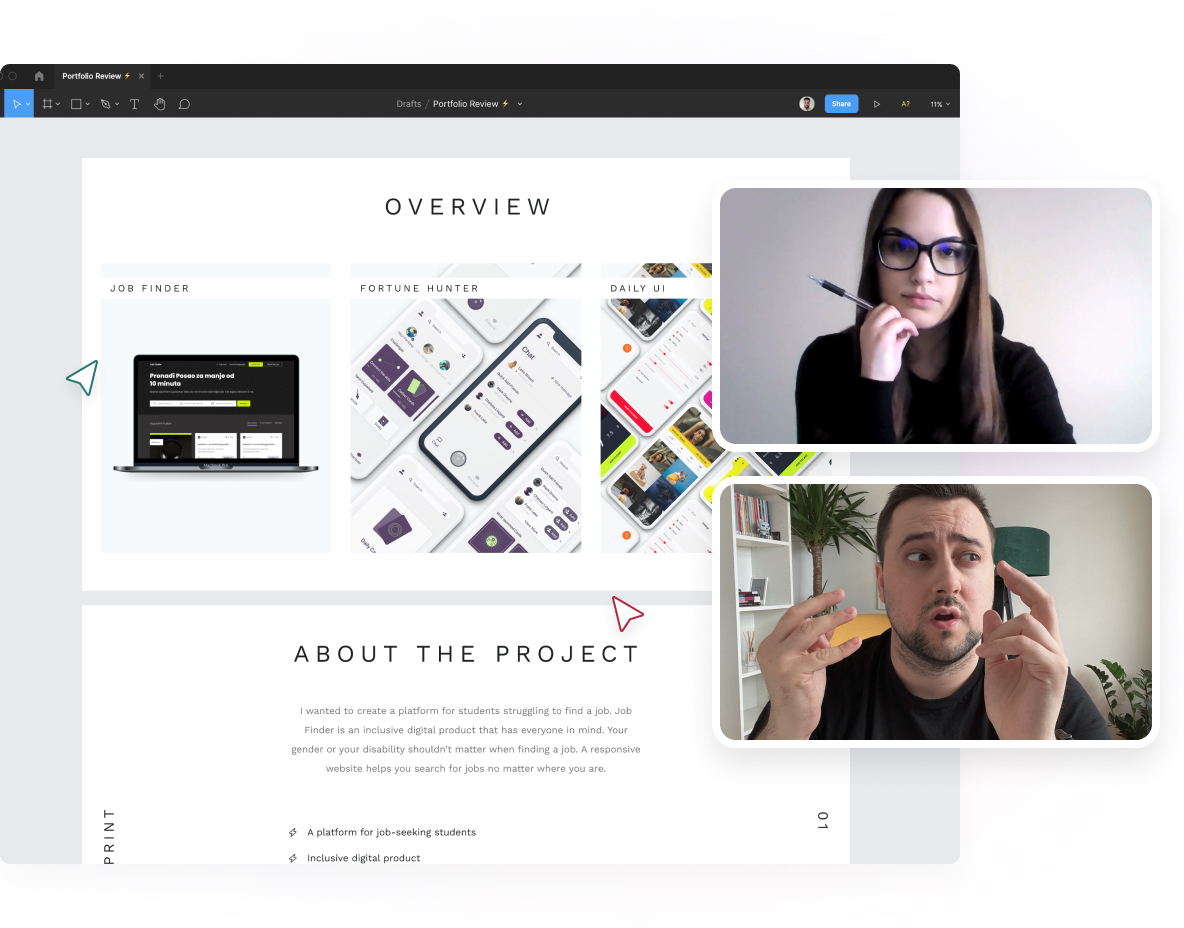 Advance in your UX/UI or product design career
Career advice, and planning your career roadmap
Choosing your career goals and success metrics
Resume and portfolio review with actionable feedback and improvement tips
Job interview preparation, job interview role play

Negotiating your job offer

Preparing and positioning yourself to get promoted
Learn how to transfer from another career into the design
Assistance in transferring from one design role to another, especially if you're a graphic designer who wants to learn UX/UI and product design
Receive personal support and accountability
Dealing with imposter syndrome

Managing burnouts

Project advice and consulting
Having a reliable senior designer who helps you complete your design tasks
Learn specific design skills and tools
Tutoring on the topics of your choice

Review sessions

Feedback on your designs with actionable improvements

Grow your UX, UI, research, and strategy skills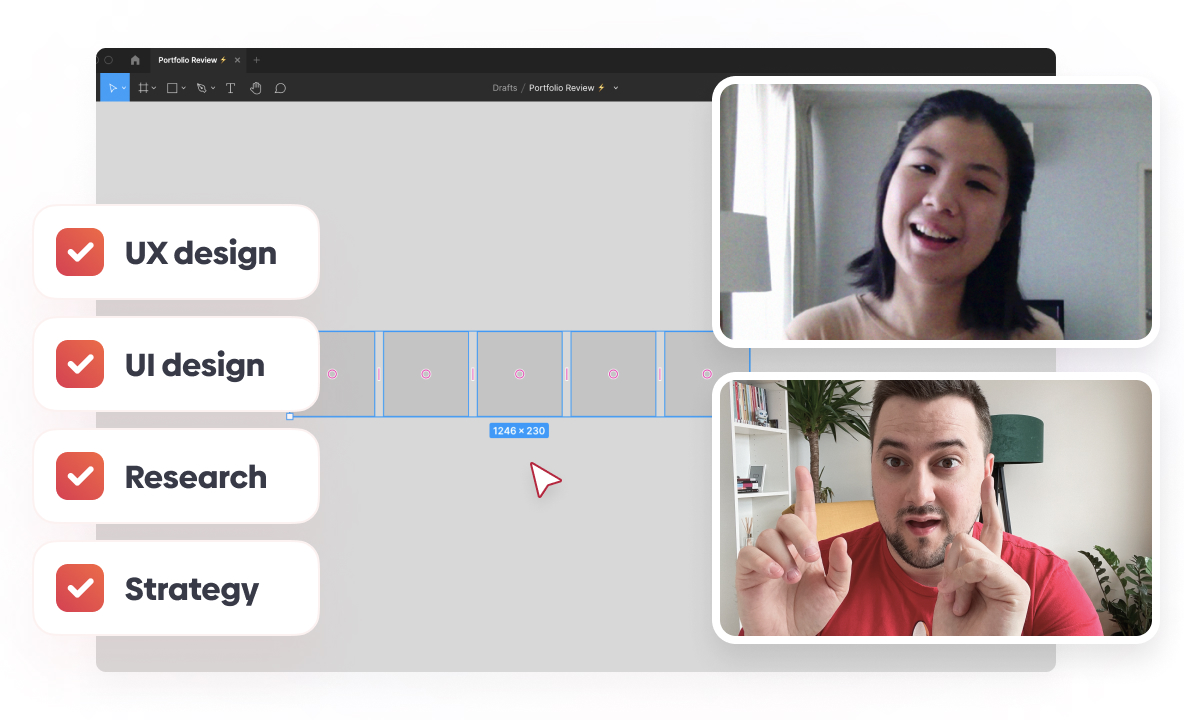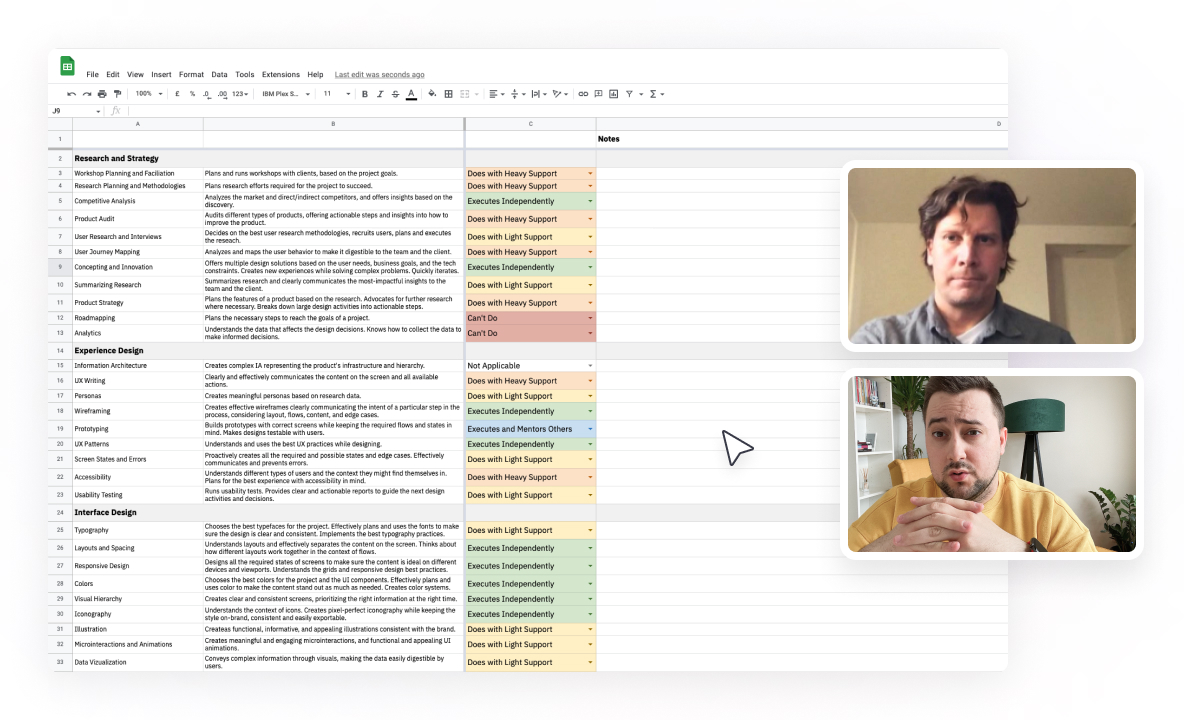 Get help on how to hire and manage your design team
Guidance on how to grow, train, and lead your team
Learn how to keep your design team members motivated
IS MENTORSHIP THE RIGHT CHOICE FOR ME?
The greatest investment you can make is investing in yourself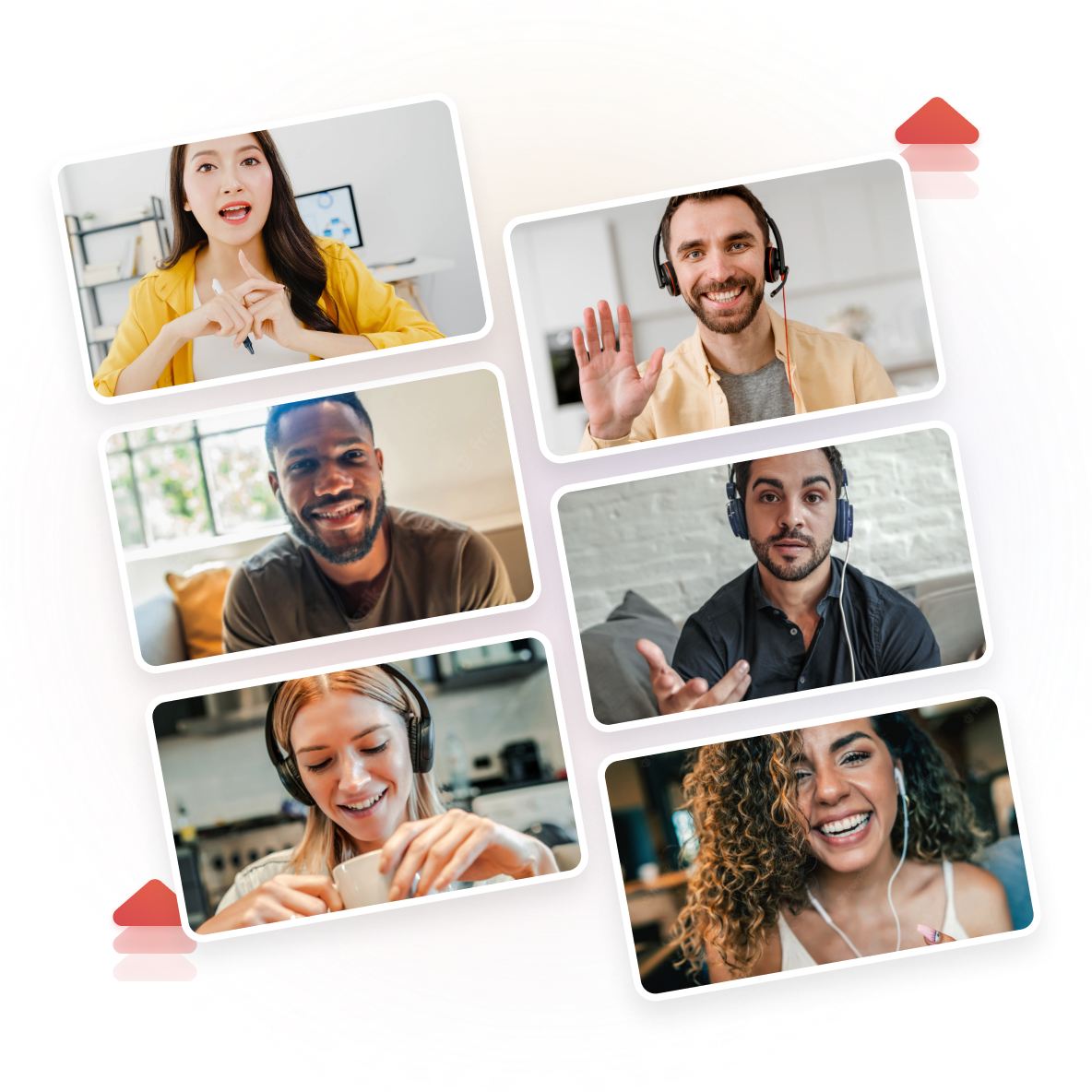 feel like you need assistance in developing a career path that fits your individual passions, talents, and interests
are transitioning into a specific design role and need coaching or guidance
are a junior or a complete novice who wants to grow rapidly
want assistance in finding ways to grow professionally
need a trusted confidant during times when you have to make decisions on design projects or
need a second opinion from an expert
are building your design team for the first time
want to learn specific UX, UI, research, and strategy skills from an experienced product designer and lecturer
Get immersed IN YOUR GROWTH
This is how your mentorship will look like
Speak with an experienced product designer, mentor, and lecturer
You will join a call with Andrija Prelec, a product designer with almost a decade of hands-on industry experience.
He has worked on 50+ digital products, from websites to mobile apps, that have reached 10M+ users worldwide. In the past, he had worked both as a UX/UI designer at product design agencies (the most prominent one being an NYC-based agency called Five) and as a freelance product designer.
Currently, he works as a CEO and a product design lead at Sharc, and as a UX lecturer and team lead at Algebra, a rewarded educational institution and college in Croatia. He focuses on developing product strategies, conducting user and market research, creating resonating experiences, and designing delightful user interfaces. Outside of the design field, he has experience with hiring, mentoring, managing teams, building client relationships, and so much more.
Andrija has mentored hundreds of existing and future UX, UI, and product designers through his work, lectures, workshops, and in-person courses. He also holds a master's degree in multimedia design.
Don't miss out on a chance to speak with an accomplished designer who has experience with hiring and teaching! After the mentorship calls, you will know exactly what to do, why, and how!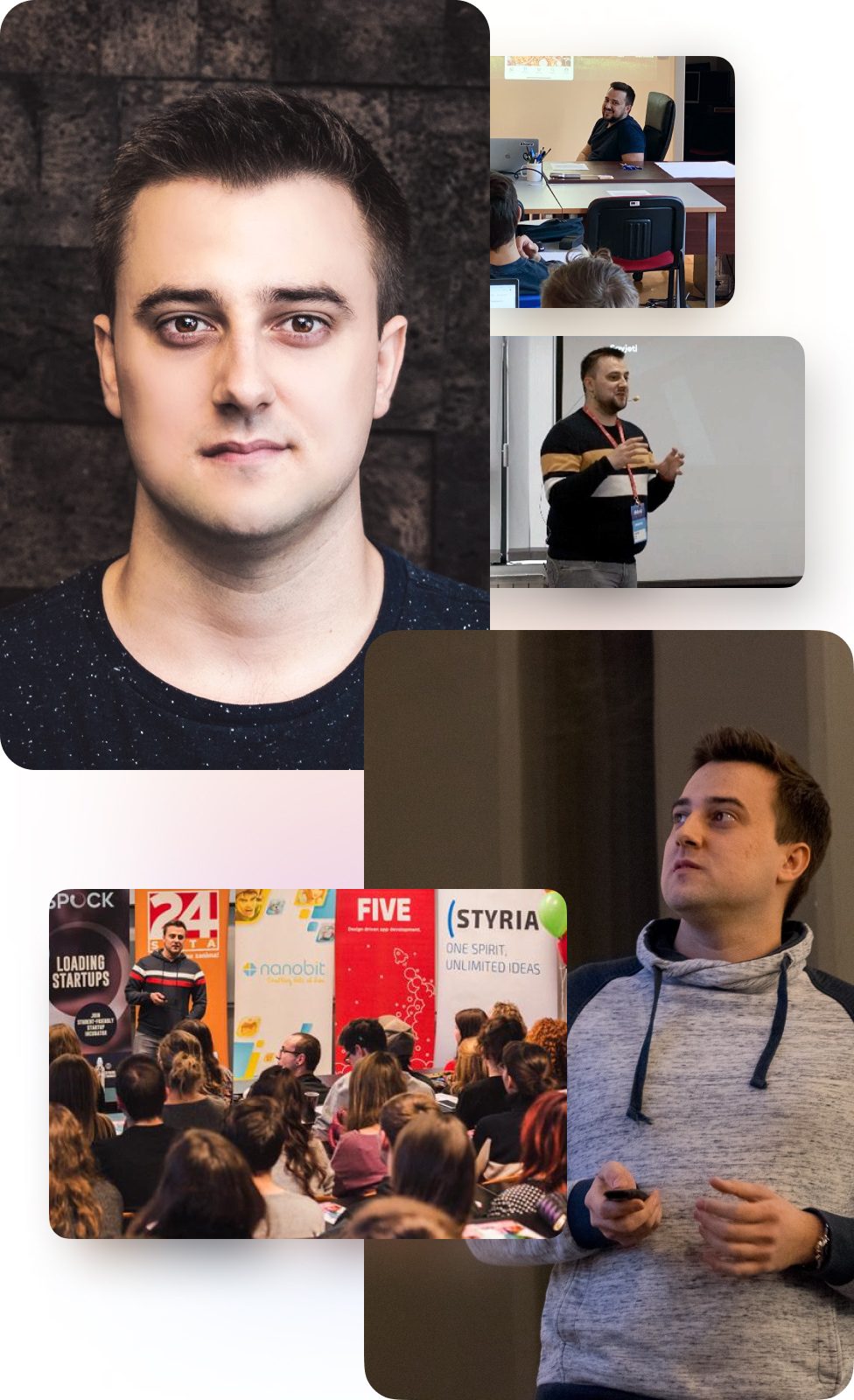 Supercharge Design alumni 🎓
Join hundreds of people who benefited from Andrija's mentoring
FREQUENTLY ASKED QUESTIONS
You asked, we answered! ✋
Are you ready to become a design superstar?
Choose the mentoring package that works best for you
$197
inclusive of VAT, if applicable
€ 184.08
inclusive of VAT, if applicable
a single 60-minute call

actionable tips and feedback

call summary
3 sessions · Most popular
$499
inclusive of VAT, if applicable
€ 466.27
inclusive of VAT, if applicable
3 × 60-minute sessions, 180 minutes total
15% discounted rate

actionable tips and feedback

direct Slack messages in-between sessions
call summaries, tasks and exercises

mentoring topics can remain connected or each call can have its own goal
$1379
inclusive of VAT, if applicable
€ 1288.54
inclusive of VAT, if applicable
10 × 60-minute sessions, 600 minutes total
30% discounted rate

actionable tips and feedback

direct Slack messages in-between sessions
call summaries, tasks and exercises

mentoring topics can remain connected or each call can have its own goal